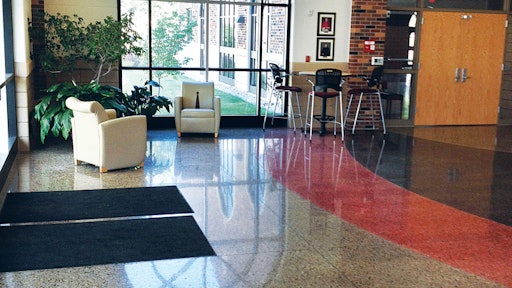 Burgess Concrete, Moline, Mich., has been in business since 1984, performing traditional concrete services for its central Michigan clientele. After watching polished concrete gain popularity in its area, Burgess Concrete added polishing to its lineup of services in 2008, seeing it as another revenue source rather than a portion of the job to bid away to a subcontractor. The Burgess Concrete polishing division bids polishing jobs on its own work and for competitors, GCs and owners.
In 2010, Burgess Concrete won the bid for the concrete work on a two-story addition at St. Philip High School in Battle Creek, Mich. Part of that bid was 4,800 square feet of polished concrete floors. Polished concrete was an obvious flooring choice for the school because it both accomplished the architect's design vision and fit the school's budget.
Burgess Concrete performed all the site work, foundation work including helical piers on both the old and new foundations, and the exterior and interior flatwork. They also contributed to planning a concrete mix design that would best take a polish.
The Burgess Concrete crew started the polishing process by exposing the aggregate with 40/80 metal-bond abrasives, then followed them up with 30/40 then 60/80 hybrids. Then the crew dropped down to a 40-grit resin and followed a 100, 200, 400, 800 and 1,500 polishing sequence. Crew members added color after the 400s, added densifier after the 1,500s and burnished with 3,000-grit diamond-impregnated pads.
In the end, Burgess Concrete delivered a floor that made everyone happy, including the judges for the 2012 ASCC Decorative Concrete Awards who gave the floor first place in the "Polished, Under 5,000 Square Feet" category. Tim Burgess, sales manager at Burgess Concrete, emphasizes it was the work of everyone who had a hand in the floor, from the place and finish crew to the polishing crew, that won the award. "Our finishing crew did a fantastic job pouring the floors," Burgess says. "It was not simply in the way they poured the concrete, but also in their attention to detail with the knowledge of what the finished product would look like and how what they did would affect it."