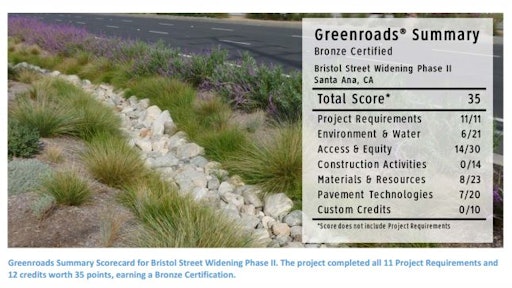 The Greenroads Foundation announces that the City of Santa Ana's $10.2 million Bristol Street Widening Project is the first project in Southern California to achieve Greenroads Bronze Certification for its commitment to sustainable transportation construction and traffic solutions.   
"By working with Greenroads, we discovered ways to blend design, construction and sustainability," said Mindy Ly, engineering manager with the City of Santa Ana.
Bristol Street Phase 2 is a major north‐south corridor traffic improvement project that carries more than 42,000 vehicles each day and runs through the heart of Santa Ana. The project was substantially complete in November.
The Bristol Street project offered opportunities to implement traditional sustainable transportation features including bicycle lanes, bus turnouts and sidewalks, but also more innovative ideas including the use of old car tires and recycled asphalt for paving. Identifying local suppliers reduced the carbon impact and boosted the local economy. The city saved money with an LED lighting agreement with Pacific Gas and Electric and cleaned surface runoff with a beautifully constructed half milelong, 15‐foot wide bioswale.
"Working with Greenroads helped our relationship with the contractor, All American Asphalt," said Ly. "They wanted to learn and earn environmental points as much as we did. The contractor took some new approaches to construction and was excited to take that education to the next asphalt project."
"Greenroads is about educating agencies, contractors and designers on what's green and what's possible," said Jeralee Anderson. "They are often surprised to learn sustainability is simple, saves time, and saves money."