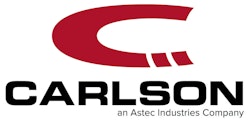 With the New Year quickly approaching and with it a new Congress, the management and employees of Carlson Paving Products have heeded the call from Astec Industries, Inc. President and CEO Benjamin Brock in urging Washington to lead on the issue of transportation funding. Along with its sister companies, Team Carlson is already taking steps to advocate for the proposal set forth by Senators Bob Corker (R-TN) and Chris Murphy (D-CT) to increase gas tax revenue and save the Highway Transportation Fund (HTF) from bankruptcy.   
"Now more than ever is action needed to be taken to push Washington towards a solution," stated Carlson President Chris Colwell. "As we head into these critical months, the cost of inaction on the part of legislators threatens to allow the Highway Transportation Fund to go bankrupt by May and halt desperately needed transportation projects that employ tens of thousands of American workers. Team Carlson is excited to stand with President Brock to urge our legislators to lead on this issue in passing a solution that makes critical investment in our roads, fixes the HTF, and saves lives in creating a safer transportation system."
In an open letter to Congress and President Barack Obama, Astec President Brock urged the passage of the revenue increase of 12 cents on gasoline and diesel fuel. "[The 12 cent rise] represents an increase of about $1.60 per week per car-a small price to pay to ensure our economy and families are safe," Brock wrote. "The need to invest in a long-term solution is undeniable. Washington DC has an opportunity unlike any in recent history to move our nation forward."
The Corker-Murphy Highway Funding and Tax Reduction Proposal would raise the federal tax on gasoline and diesel fuel by 12 cents over two years, raising an estimated $164 billion over a decade. In addition to raising the gas tax, the proposal would also tie future increases to the Consumer Price Index to adjust with inflation overtime and implement offsetting tax reductions for American families and small business.  
The slogan of this effort, "Don't Let America Dead End", should be a rallying cry for all who wish to see Washington fix and fully fund our transportation system. Team Carlson invites you to join us in urging Congress to lead and pass this bill. Please take a few minutes of your time to visit our website at www.carlsonpavingproducts.com and click the "Email Your Representative" tab to contact your Congressman or Senator. Lend your voice in pushing this proposal before it is too late and the HTF falls into bankruptcy.