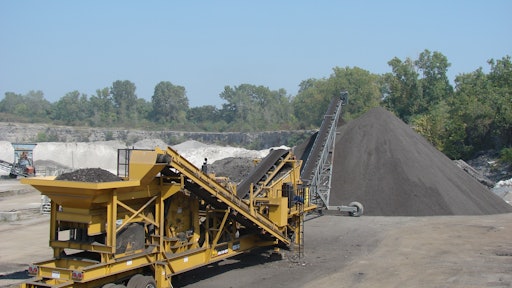 Unless you've been living under a rock ­– no pun intended – you know that the reclaimed asphalt pavement (RAP) market is booming. And it makes sense. Even at the end of its initial service life, old asphalt pavement still has value. And, with over 2.2 million miles of paved roads in the U.S. alone, 93 percent of which are surfaced with asphalt, recycling and reusing that asphalt should be a priority. Thankfully, states and contractors have recognized RAP as economical and environmentally friendly, so they have started using it extensively for new asphalt pavements.
In fact, according to the National Asphalt Pavement Association (NAPA) since most reclaimed asphalt is reused or recycled, asphalt pavement is recycled more than any other material and its use is growing. The amount of RAP in asphalt mixtures was 66.7 million tons in 2011 and 68.3 million tons in 2012.
The steady growth and high demand for the material can be largely attributed to changes in state DOT regulations. In many states, the policies have gradually shifted after re-evaluation of the cost savings and durability of asphalt mixes containing RAP versus solely virgin materials.
Further, liquid asphalt cement, which makes up about 5 percent of an asphalt mix, costs over $600 per ton. It is the most expensive material in the mix, but it's an expense that can be minimized with the use of RAP. The residual liquid asphalt within RAP material – usually 3-5 percent – makes the entire process more economical, even after factoring in the costs of milling, hauling and crushing.
To demonstrate the cost savings, turn your eye toward the 68.3 million tons in 2012. A level of 5 percent liquid asphalt in RAP represents more than 3.4 million tons of the substance conserved, or over $2 billion. For any car nuts out there, that's equivalent to about 450 Lamborghini Venenos.
What's even more incredible is that mixes with high amounts of RAP have equal, or possibly even improved, performance in comparison to 100 percent virgin mixes, according to the National Center for Asphalt Technology. This math appeals to state highway departments nationwide and road builders looking for the most bang for their buck. RAP mixtures provide the means to produce a longer stretch of road with higher durability at a reduced cost, the perfect concoction to make RAP the cool kid on the block, right behind the guy driving the Lamborghini.
The amount of RAP you can use in a mixture still depends on local specifications, the quality and availability, but it's no wonder state DOTs have increased the amount of RAP they allow in new roads. And, because of the popularity of RAP over the past decade, companies that crush and process the material are thriving. In fact, many contractors are looking for the ideal solutions when expanding to this market.  
Self-contained plants that feature both a crusher and a screener in one unit are the best for this industry. Those with return conveyors are also an immense help. The return conveyor brings materials from two screen decks back to the crusher for additional sizing. This eliminates the need for an extra person and an additional loader to pick up oversized materials and manually re-feed the crusher. While it might sound simple, the ability to return both decks via a return conveyor can alone reduce expenses and boost production by as much as 20 percent.
Case in point: based on a 10-hour day, with labor costs for two extra people, the price of a loader and bulldozer, and operational costs such as fuel for the loader, the ballpark cost savings per ton is around $3. At 4,000 tons per day, that's $12,000. Plus, you can place your employees on a job where their time is better spent to improve productivity overall.
This is especially beneficial because recyclable asphalt, depending on whether it has been milled or torn up with the "rip and tear" process, are usually in chunks from 1½-inches on up.  Larger chunks require a lot of crushing to pare the material down to the ½-inch size needed for the asphalt mix, so re-circulation through the crusher is often necessary. In those circumstances, the return conveyor not only increases production, but cuts costs, as well.
The screening portions of these plants have become increasingly important, as the use of fractionated materials has grown. Fractionation is basically stockpiling two or more sizes of material: coarse (½-inch or 3/8-inch plus) and fine (½-inch or 3/8-inch minus).
While fractionation can cost contractors more, consistently sized materials are more valuable. Fractionated material gives a mix designer greater control of the RAP, so states are more likely to allow higher amounts of RAP. Most screening units produce two (or more) sized products, so it wouldn't cause additional costs for an operator to produce and offer fractionated materials. In fact, a precise, reliable screen will help in terms of RAP management. These plants can eliminate contamination and ensure consistency of the materials. 
One final, and very important, factor for these contractors is mobility. Sure, some of our customers are gravel pit owners who rarely move their equipment. But many of them spend a lot of time on the road, especially those in the asphalt and concrete recycling markets. A mobile unit – whether it's tracked or wheeled – is a huge plus. We usually recommend a unit that is self-contained with both a crusher and screener. It is beneficial to have a portable and compact unit with one power source that can produce one, two or three products.
If you're in the asphalt or recycled concrete industry and a screener-crusher combo is not in your operation, you're missing out on profit. If you haven't delved into those industries and are interested, put one of these units on your list this holiday season.
Sean Donaghy is the national sales manager at IROCK. He has more than 20 years of experience in the crushing business and has been with IROCK for seven years.