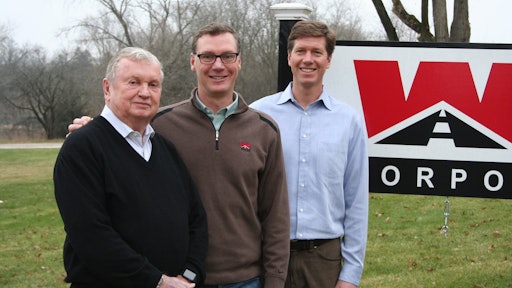 Wolf Paving, a third-generation family owned business and leading asphalt manufacturer and contractor, celebrates its 75-year anniversary this month. Established in 1941 by Lawrence Wolf as Wolf Construction, the company has evolved from manufacturing sand and gravel for Waukesha and Jefferson Counties, to one of the most predominant asphalt solution providers for residential, commercial and municipal projects in southeastern Wisconsin. Most notably over the years, Wolf Paving has contributed to the development of a number of significant roadway projects including Hwy 100, Hwy 59 and the Waukesha bypass. 
Today, Wolf Paving is focused on the manufacturing and utilization of the most sustainable asphalt materials produced. In an industry that recycles nearly 100 million tons of its own product each year, Wolf Paving has been recognized as a pioneer in the area of environmentally responsible asphalt solutions. The company's innovative manufacturing and recycling processes has produced some of the most sustainable material for constructing roads in the state of Wisconsin. 
"Our company's strong heritage and growth are the result of my grandfather's acute focus on innovation and exceeding expectations within our industry," said Sean Wolf, Vice President of Wolf Paving. "The partnerships built and achievements we have experienced over the past 75 years are a reflection of our commitment to excellence and the many contributions from our entire team." 
Wolf Paving's commitment to the continual development of sustainable materials and porous and green asphalt solutions, allows the company to responsibly construct and maintain everything from driveways to highways. Additionally, company representatives are committed to giving back to the community they serve through the Charles E. Kubly Foundation.