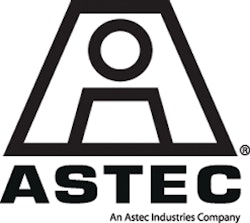 Astec Industries Inc. has announced it has entered into a definitive agreement to acquire substantially all of the assets and certain liabilities of Power Flame Inc. The transaction closing is subject to final due diligence and customary closing conditions. The aggregate purchase price for the assets is $43 million, subject to certain closing adjustments.
PFI, based in Parsons, KS, manufactures gas, oil and combination gas/oil burners and combustion control systems designed for commercial, industrial and process applications. PFI began in 1948 and was acquired by Bill and Louisa Wiener in 1979.
Commenting on the announcement, Benjamin G. Brock, president and CEO, says, "We are very pleased to welcome Power Flame to the Astec Industries family of companies. Our companies have known each other for over 30 years. We are a match culturally and in our approach to business. Power Flame is a successful, profitable company with strong market share in each industry it serves. Power Flame also leads with innovative technology and dependable quality products. We thank Bill Wiener and his wife, Louisa, the owners of Power Flame for 37 years, for their collaborative effort on this acquisition, and we are happy that Bill will remain with us as president of Power Flame.
"Power Flame joining our family of companies reflects our stated strategy to continue focused growth both organically and through acquisitions of strong companies that serve the infrastructure, aggregate and mining, and energy industries," Brock continues. "Power Flame will continue to operate as Power Flame Inc. in Parsons, KS and will join our Energy Group. We expect the transaction to close early in the third quarter."
More information on Power Flame and its products can be found at powerflame.com.