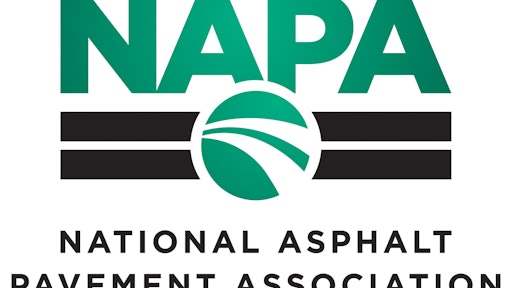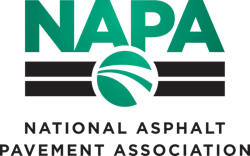 The National Asphalt Pavement Association (NAPA) has named the winners of its 2015 Asphalt Operations Safety Innovation Award. Four companies were recognized at a special ceremony during the association's Midyear Meeting in Seattle.
The Asphalt Operations Safety Innovation Award recognizes the development and implementation of innovative ideas that lead to improved worker safety in a roadway work zone, plant site, or quarry environment, and companies whose safety practices go above and beyond normal safety practices.
"NAPA members strive for excellence in constructing high-quality asphalt pavements and in every aspect of their operations. The five Operational Excellence Awards categories — Asphalt Operations Safety Innovation, Community Involvement, Ecological, Outstanding Brochure, and Outstanding Website — recognize a company's commitment to operational practices that make them good contractors, good industry ambassadors, and good neighbors," said NAPA Chairman Kevin Kelly.
Oldcastle Materials — Montana Companies, based in Helena, MT, was honored for its asphalt drum non-entry rescue system, which allows the company to retrieve an employee that is injured while working in the confined space of an asphalt drum. The system consists of an anchor, aircraft cabling, turnbuckles, carabiners, a rescue pulley and rope, and a fall-protection harness. If a worker becomes unconscious in the drum or unable to climb out of it, the system can be used to hoist the person off the flights and they can zipline down the cable to safety.
"It's empowering for our employees to come up with a solution," said Oldcastle Materials Safety Director Skyler Willard. "Because it was their idea, chances of someone using it are 100 percent. Plus, it's a very simple, easy installation. They didn't want some cumbersome thing on their backs."
Payne & Dolan Inc. of Waukesha, WI, was honored for its lighted spray bar for a tack truck. Realizing the hazardous situation created by the 13-foot-long spray bar projecting beyond the sides of the tack truck, an employee decided to wrap the spray bar with an 18-foot LED light powered through an inverter connected to the vehicle's battery. The lighted bar reduces a trip hazard for those in the work zone and makes the truck more visible to drivers at night. The company is now implementing lighted spray bars on all its tack trucks.
"When the spray bar's wings are extended and they're not illuminated, someone can very easily trip over or be struck by it, causing serious damage to the spray bar. More importantly, it can cause an injury," said Payne & Dolan Sales Manager Mike Del Fava. "Adding an LED light was one of those 'a-ha!' moments. It's something so simple, so brilliant, but we hadn't thought of before."
Superior Paving Corp. of Gainesville, VA, was honored for its implantation of a McCav air brake warning system, which visually and audibly alerts drivers if they leave the vehicle without engaging the safety brake, which helps to avert roll-away accidents. Superior has installed the system on its entire fleet of trucks, including dump trucks, all-service vehicles, tack trucks, crash cushion vehicles, and low-boy tractors.
"If we can avert one accident, the system has paid for itself," said Todd Atkins, Director of Safety for Superior Paving. "Our most important asset, obviously, is our folks, and we can't replace them. We can buy all the equipment in the world but you can't buy people."
Valley Asphalt Corp. of Cincinnati, Oh, was honored for developing a freestanding transfer slat catwalk to help employees safely repair transfer slats at its plant. The company's Asphalt Group Safety Committee used a hierarchy of hazard control steps to engineer a solution that met fall-protection needs in a more streamlined, efficient manner.
"When you're on a ladder, which could kick out from underneath someone at any time, you don't really have access to the transfer slats the way that you need to reach them. With the transfer slat catwalk, employees are able to complete their work faster, they're able to do it more safely, and they have total access to the transfer slat," said Valley Asphalt Operations Manager Chris Dittus. "You're not spending extra time fixing it."
The Operational Excellence Awards honor leaders in the asphalt pavement industry for innovation and excellence in marketing, communications, and community outreach with the Community Involvement, Outstanding Brochure, and Outstanding Website Awards. Companies also are lauded for their responsible practices with the Asphalt Operations Safety Innovations and the Ecological Awards for New and Existing Plants.
The Operational Excellence Awards are a counterpart to NAPA's annual Quality in Construction Awards, which recognize asphalt paving jobs completed in line with best practices and standards known to yield high-quality asphalt pavements.
The NAPA Awards Program recognizes and encourages continuous improvement in all aspects of asphalt production and paving operations. The 2016 NAPA Awards program is currently accepting nominations. Quality in Construction Award nominations are due by Oct. 7; Operational Excellence Award nominations are due by Dec. 2.
For more information about the NAPA Awards program, or to nominate a project or company for an award, visit www.AsphaltPavement.org/Awards.