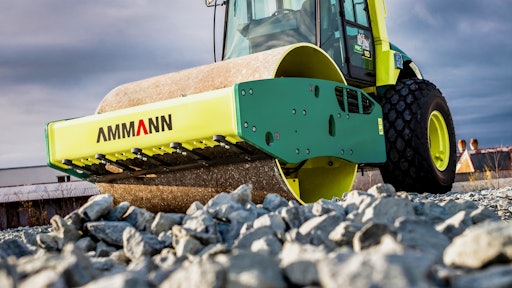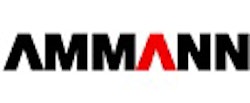 Ammann, a sixth-generation, family-owned business that produces asphalt and concrete mixing plants, compactors and asphalt pavers at nine production sites in Europe, China, India and Brazil, will be exhibiting both heavy and light compaction equipment at CONEXPO-CON/AGG 2017.
The heavy machines include single drum, tandem and pneumatic rollers. All are known for intuitive control, exceptional visibility, operator comfort, high compaction output and easy access to service points.
The proprietary Ammann Compaction Expert systems ACEforce and ACEpro are available on many Ammann rollers. The Intelligent Compaction systems help eliminate unnecessary passes and the costs that go with them. ACE systems deliver quality control by identifying uncompacted spots. ACEpro can even react and automatically adjust the vibration parameters. All measured values can be displayed and evaluated including load-bearing capacity of material, number of passes and frequency/amplitude values.
ACEforce or ACEpro are options for most compactors featured at the show.
Specific heavy rollers to be displaced include:
ASC 100 Tier 3 Soil Compactor
ARP 95 K Tier 4 Interim Pivot-steer Roller
ARX 90 Tier 4 Final Articulated Tandem Roller
ARX 26 Tandem Roller
AP 240 Tier 3 Pneumatic Roller
ARR 1575 Tier 4 Final Roller
Ammann's light equipment lineup includes a wide range of sizes and an ability to excel in multiple applications that include soil, asphalt, paving stones, aggregate and others. Among the product lines on display will be rammers, vibratory plates, walk-behind rollers, Rammax trench rollers and light tandem rollers.