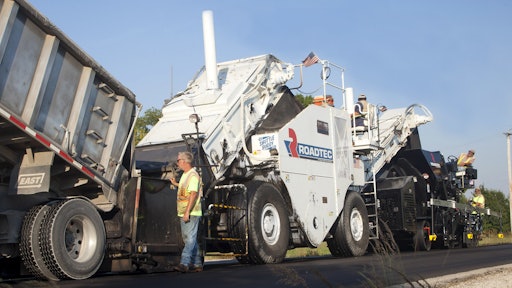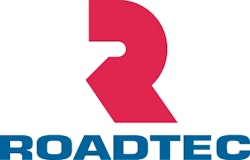 The Roadtec Shuttle Buggy Material Transfer Vehicle now has a Tier 4 final compliant engine.
Full width clean-out door on the C-1 conveyor and bomb bay style clean-out doors included on the C-2 conveyor
Upgraded sprockets now have 38% more wear surface
Floor liners on this machine have changed to chromium carbide increasing the expected life and the chain strength has also been increased by utilizing complete offset chains
Sliding platform on the operator's station contributes to the great visibility on this machine
Operator comfort has also reached a new level with the addition of the Autotracking option. Now the operator can focus on keeping an optimal flow of material to the paver instead of constantly monitoring the speed of the two machines. This new option automatically adjusts the speed of the Shuttle Buggy to keep a constant distance from the paver.
Monitoring capabilities of the storage hopper's material height within the SB-2500e's has improved with the Bindicator option. A Bindicator indicates to the operating crew when the hopper is getting full or empty. This option helps the operator monitor the material height from the console.
Request More Information
Fill out the form below to request more information about
Roadtec SB-2500e Shuttle Buggy Material Transfer Vehicle