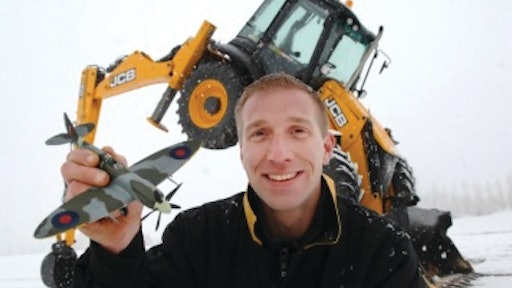 Back in the 1930s, Reginald Mitchell, an engineer born in Staffordshire, UK, made his mark by designing the Spitfire, a warplane widely used during World War II. Now, a Staffordshire-based manufacturer is preparing to aid in efforts to recover lost remnants of the historic planes.
As World War II drew to a close, a number of unassembled planes are thought to have been hidden in the ground by American engineers across three sites. After a 17-year search led by aviation enthusiast David Cundall, a bid to excavate for crates believed to contain more than 30 of the Spitfires is about to get underway at Rangoon International Airport in Burma. Online games developer Wargaming is funding the efforts.
As a fitting contributor to the project, JCB – which was founded in Staffordshire in October 1945 – will provide a 20-metric-ton JS200 tracked excavator, a 22-metric-ton JS220 tracked excavator and a 3CX Eco backhoe-loader for the excavation.
"Reginald Mitchell put Staffordshire on the map in the 1930s with the design of the Spitfire," said Chairman Sir Anthony Bamford. "So it's very fitting that JCB, a modern-day innovator and engineering company based in the county, should be providing the excavators to dig up the planes."
JCB will supply the machines through RMA Services Co Ltd., its dealer in Burma. Based in purpose-built facilities in Yangon, the company is also providing logistical and service support. In addition, JCB is dispatching Oliver Keates, team leader of its Dancing Digger display team, to operate the machines and offer expert advice on the digging operation.
Julian Mitchell, Reginald's great-nephew, is excited at the prospect of a local company unearthing a piece of his family's history. "I'm delighted that JCB is involved in helping recover the Spitfires," he stated. "Staffordshire is a great manufacturing county and I'm sure my great-uncle would have been pleased that a modern-day British engineering success story was playing such an important role in this project."
Companies in this article