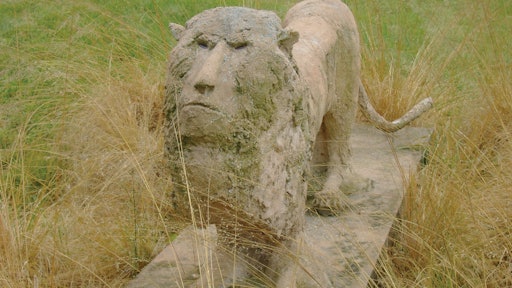 I recently visited Grandview, a concrete folk art sculpture park in Hollandale, Wis. In the 1930s and 1940s, dairy farmer Nick Engelbert filled his yard with a variety of animals and mythical creatures he constructed with concrete. He even set aside a picnic area and parking lot for visitors curious to see his creations. Concrete may not immediately come to mind as an ideal material for artistic expression, but it would have been familiar and available to a farmer during Engelbert's time. It proves the drive to create art will not be smothered by a lack of oil paints, sculpting clay or formal training.
As editor of Concrete Contractor magazine, I see many artful pieces created with concrete, including countertops, chairs and other molded pieces. Although these creations are for the most part utilitarian, requested and sold for money, each is an artistic expression created by an artisan. I recognize individuality and style in each piece I see. And more often than not, the decorative concrete contractors I meet have chosen concrete as their material for artistic expression because it's something they are familiar with.
Grandview was restored through the Kohler Foundation, Inc., along with other concrete sculpture gardens like the Wisconsin Concrete Park. There are examples of artful concrete all over the world. Post any links you might have about artful concrete in your part of the world, or tell me about the artful concrete you have created yourself.