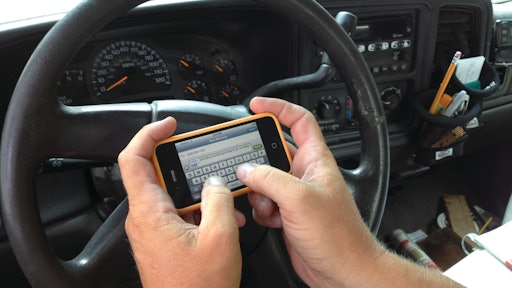 A few weeks ago I attended a small safety event in conjunction with my community farmer's market. There were informational tables from the Red Cross, the local fire department and the like. Of course any construction-related information drew my attention, including a safety brochure from the American Automobile Association (AAA) entitled "Texting While Driving: A Dangerous Combination." While this brochure was created to help parents curtail teen texting and driving, the statistics referenced were enough to scare any adult, let alone any business owner who owns and insures a fleet of vehicles. Here are some of the statistics from the brochure:
Although 92% of U.S. drivers consider texting while driving unacceptable, 24% of those drivers admitted to reading or sending a text message while driving in the last 30 days
Texting while driving can increase eyes-off-the-road time by 400%
Texting while driving increases drifting into adjacent lanes by 28%
Texting while driving increases risk of experiencing a crash or near crash by 2,000% 
In 2010, the average U.S. teen sent or received an average of 3,339 texts per month (One day, those teens will be working for you!)
The number of text messages sent worldwide is expected to grow to 8.7 trillion messages in 2015
With motor vehicle crashes the No. 1 cause of worker fatality year after year, business owners should do whatever they can to keep their workers safe behind the wheel. Currently, 39 states ban text messaging for all drivers. Check out this state-by-state listing of texting while driving and other cell phone-related bans.
Construction business owners can take these state laws a step further. The Occupational Safety and Health Administration (OSHA) suggests in its own texting and driving safety brochure that employers declare their vehicles "text-free zones." Additionally, in a recent article in Concrete Contractor magazine, legal columnist Dave Whitlock explained why and how contractors should develop a cell phone use policy for employees.
Creating a texting and driving policy and educating your employees on the dangers of texting and driving will help your company in several ways. First and foremost, it will increase safety on the road for your employees and the rest of the driving public. Second, in an environment where contractors are looking to save dollars anywhere they can, such a policy can reduce your  vehicle incidents claims and therefore lower insurance costs. And if there is one thing every contractor knows, it is that one of the few things scarier than statistics on the dangers of texting and driving is rising insurance costs for construction companies.