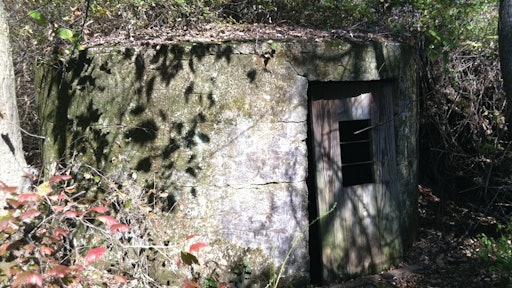 While hiking around Wisconsin's Governor Dodge State Park a few weekends ago, I took in the fall color change and visited three spring houses, or "pioneer refrigerators," nestled in the woods throughout the park. The spring houses were all constructed with some form of concrete, stone and mortar by the homesteaders who farmed the land. Concrete's thermal mass properties made the spring houses functional, and concrete's resilience through time has allowed them to remain standing 100+ years.
Each of these spring houses was built on top of a natural spring, which provided fresh water to the homesteaders who owned and farmed the surrounding land. The stone and concrete buildings stayed cool year round thanks to the cold spring water that flowed through each spring house. Farmers used the buildings to keep their milk and other perishables cool in summer months.
My favorite of the three spring houses is a round building constructed of hand-mixed concrete. It belonged to the Emil Ast family. Emil, his wife and their five children farmed 220 acres, raising cows and making wonderful Wisconsin cheese! One of the interesting aspects of this building was the use of barbed wire as reinforcement.
Today the concrete industry works hard to remind architects and homeowners of the benefits of building with concrete, including thermal mass and longevity. Maybe all it will take is a good look at concrete's past to help strengthen its future.