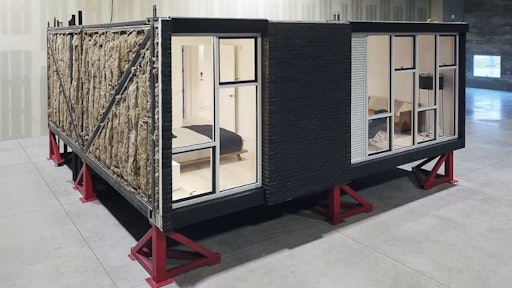 Skender
The 64-year-old Chicago contractor Skender opened a 130,000 sq. ft. facility on Chicago's southwest side to manufacture interlocking building modules on an assembly line.
"Our production launch is an important milestone in our radical new approach to building," said Mark Skender, CEO, Skender. "By bringing design, manufacturing and construction under one brand and one integrated team, we can dramatically improve productivity and build more efficiently while increasing the quality of materials and finishes, as well as the energy performance."
Skender's first modular building order will be for ten affordable-rate, three-flat apartment buildings from Chicago developer Sterling Bay. Sterling Bay is required to build hundreds of units of affordable housing as part of its deal with the city to develop high-end housing in the recently approved $6 billion Lincoln Yards megadevelopment on Chicago's North Side.
Sterling Bay hopes to have the first families living in Skender modular buildings by late August. Production time for a fully constructed three-flat (modules shrink-wrapped and ready for assembly) is just six days.
Sterling Bay expects its steel-frame three-flat buildings will be completed and ready for occupancy in a nine-week production schedule – 80% faster than conventional construction methods – and at a 5% to 20% lower project cost, depending on how they are delivered and assembled.
NPR.org reports that on the Skender assembly line, lasers guide the work. All-steel studs manufactured to size snap into place before being welded together. Welding tables are leveled to one-ten-thousandth of an inch. Modules are built in organized, well-lighted, climate-controlled buildings.
Everything is added on the assembly line, from electrical conduit, plumbing and HVAC systems to insulation, drywall, paint and light fixtures.
Completed modules are transported to construction sites, where traditional foundations have already been built. Lifted by cranes, the 25,000- to 35,000-lb. pieces are connected horizontally and vertically to form entire buildings.
Skender's modules can be stacked as high as 12 stories now, with the potential to go higher as the design is fine-tuned.
Modular construction is a hot idea in U.S. cities with a shortage of affordable housing. New York City Mayor Bill de Blasio wrote modular homes into the city's 2017 housing plan. Last year, San Francisco Mayor London Breed announced plans to put $100 million in city dollars toward a factory that could churn out hundreds of affordable modular units.
Sterling Bay's investment in Skender's facility is a bet that the new modular building capacity will cut its costs to satisfy the City of Chicago's quota for new affordable housing.
Production and assembly cost of the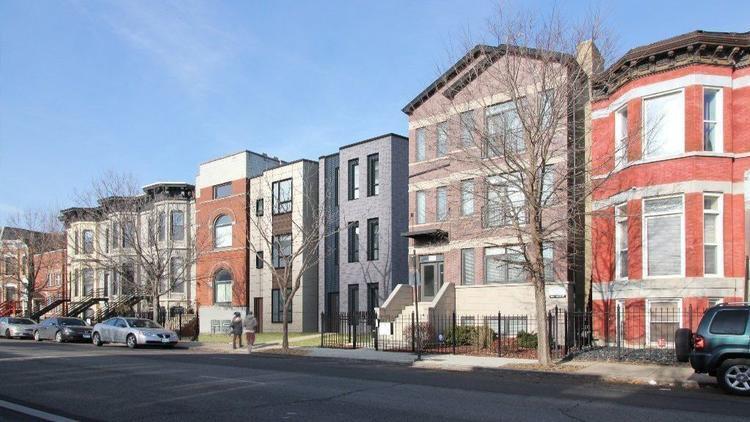 Rendering of Skender 'affordable' three-flats (third and fourth buildings from right).Skender Skender three-flat is $1 million — or about $335,000 per unit — not including the land. Skender says its process is bound to get cheaper as production ramps up and improves. One example of efficiencies they're pursuing is an agreement the contractor is working on with the city's buildings department to "self-certify" successive building permits once each new model is approved, potentially cutting months of wait time.
 But the current cost of Skender's modular buildings is not considered affordable by government standards. The first round of its buildings are made up of two-bedroom, one-bathroom apartments with rents that city caps at 60% of the area's median income. That means about $41,000 for a two-person household, or $51,000 for a family of four.
Currently, city-subsidized developments are the only type of construction feasible in much of the areas where Sterling Bay found 100 empty lots they're working to acquire. Because market-rate housing costs more to build than it would sell for there.
Skender's factory will begin with 35 employees, in an agreement with the Chicago Regional Council of Carpenters. The facility will grow to 150 union workers within the next year and a half, according to Skender.
"Currently the market share of modular in the U.S. is really, really small," Jan Mischke, partner at McKinsey Global Institute, told the ChicagoTribune.com. "I'm quite confident that over a 10-year period there will be a factor of growth. We're not talking about percent growth."
Mischke said the industry could double or triple in the country in the next decade.
Skender sees its initial plans with Sterling Bay as a proof-of-concept that it can expand to larger multifamily developments including senior living, student housing, hotel, and "deployable healthcare." Spadoni, the Skender architect, told Curbed.com that the company is currently in the design phase for over a dozen mid- to high-rise projects.
More Resources
Contractors Turning to Alternative Construction Solutions Amid Workforce Shortage
Precast and Prefab Give Walbridge Profitable Steps into Lean Construction