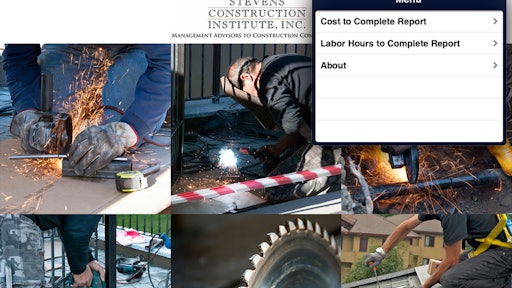 Mobile app: Cost to Complete Analysis Calculator
Developer: Stevens Construction Institute, Inc.
Cost: $19.99
Available on: iPad
Released in June 2013, this mobile app was designed to help contractors in the area of risk management by proactively managing cost overruns. Using estimated units versus actual units installed, the app calculates the percent complete to efficiently calculate construction progress. Using labor hours expended to date versus estimated labor hours, the app also calculates the cost to complete. Users can also use total cost dollars separately or concurrently in the app.
According to Matt Stevens, PH.D. of Stevens Construction Institute, the Cost to Complete Analysis Calculator is the developer's most popular app. The app can be used on up to five Apple iPads. Stevens also says an Android version of the app is planned to be released in the fall of 2013. The Android app will work on both tablets and smartphones.
In regards to tasks items, this app lets users set each task item in a separate line and includes task setup and clean up assuring each work item does not suffer from an excessive learning curve at the beginning that makes projections inaccurate during the first part of the task. Specific mobilization and demobilization task codes allow for the cost to be accurately captured for the next project.
Once the calculations are complete, the app allows the user to email to the office or print on the jobsite the resulting worksheet for daily updates and to monitor potential cost overruns.
Timely reporting is one of the app's biggest benefits, Stevens says. Employees in the field can report to the office in a timely manner and project managers or estimators don't need to re-estimate the project cost to complete each week or month. Another benefit is more honest projections and better reporting for construction service buyers, banks, sureties and the project executive, Stevens adds. The app can also help keep aggressive or optimistic field reporting from clouding reality and causing a cost surprise at the end of the project.
App features:
Clear math - hard counts/measures of installed work is how percentages are calculated. This is auditable by the construction service buyer or funder to check progress easily. If counts/measures are higher than when physical progress is checked, it is a difference of opinion. Same logic applies when the office checks on the field.
Objectively measures - task items are physically evident assemblies. That is, as an example completed linear feet of wall or lineal feet of pipe, which are easy to measure for the non-construction professional.
Communicates easily - emails and prints so utility field employees can input and report physical progress each week or daily.
Accurate - projects what the cost at completion will be.
Flexible – contractor can use his/her own task numbers, descriptions etc.
For more information, contact Matt Stevens Ph.D. at mstevens@stevensci.com.