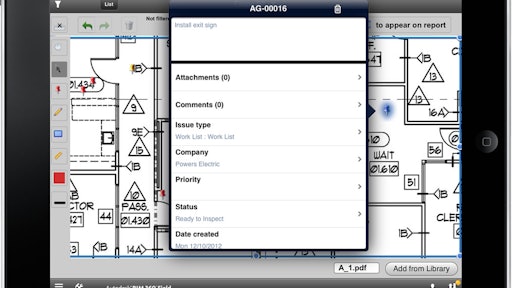 Mobile app: Autodesk BIM 360 Field
Developer: Autodesk, Inc.
Cost: Free
Available on: iPad
Turn your field data into information that improves quality, safety and profitability for construction and capital projects with the BIM 360 Field mobile app and software. This cloud-based service allows users to create and update issues, reference project documents and run QA/QC, safety and commissioning checklists throughout an entire project with or without an Internet connection on the jobsite. "Unlike carrying pads of paper and tubes of drawings on the jobsite, Autodesk BIM 360 Field combines mobile technologies and BIM at the point of construction with reporting for management," says Peter Billante of Autodesk.
Originally developed by Vela Systems, which Autodesk acquired in 2012, the BIM 360 Field app was created after observing all of the inefficiencies and rework on construction projects and determining there was an opportunity to greatly improve project delivery by using mobile technology at the point-of-construction to change the way work was being done, Billante says.
Case study: Balfour Beatty Construction Initiates Multiproject Pilot of Autodesk BIM 360 Field
The BIM 360 Field mobile app allows contractors to view and access their BIM model from an iPad in 3D. This provides easy access to key design information as well as the ability to track project progress. The app allows users to mark up drawings and photos to indicate progress. A pushpin feature lets the user "drop" pushpins onto project drawings and photos indicating where there are issues that need to be fixed. Marked up documents can then be emailed to team members.
Video: Overview of Autodesk BIM 360 Field
When a user has Internet connection, the data can be uploaded to the BIM 360 Field website and shared across the entire project team.
Case study: Consigli Construction Uses Autodesk BIM 360 Field to Help Deliver New Residence Hall on Time, Under Budget
BIM 360 Field lets you track issues and questions until they're fixed or answered, email reports to update other team members (executives, owners, architects, etc.) and maintain an audit trail of what you've done.
Top 3 features of BIM 360 Field:
Manage corporate quality and safety programs using both 2D and 3D documents.  BIM 360 Field lets you use both all of your 2D plans in addition to your 3D models, not just for viewing, but as a way to locate, track and resolve issues on the jobsite.
Designed for all of the stakeholders on a jobsite. BIM 360 Field is designed with the idea that all of the different companies on the project should all have access to the same single database of project information. 
Complete offline capability. The app is designed to 'sync' all the information you need to do you work locally to your iPad. That way you can have access to all the information, complete your work, record issues, track activities, etc. and then 'sync' back up to the cloud at the end of the day when you're back in the office or trailer.
According to Billante, the top 3 benefits of BIM 360 Field include the ability to demonstrate to owners how the use of iPad, reports and the app can help win more business. Billante also says general contractors can accelerate project schedules through greater field efficiency and minimize profit-eating rework through quality management with use of this app. This, in turn, can improve profitability. Finally, the app can help enforce safety and quality with the use of dashboards that help support compliance programs and provide important information about assessment of subcontractors and team performance, Billante adds.
App features:
Create issues (work to complete, punchlists, etc.) using your project documents and simple, paper-like forms
Review Issues - quickly edit and change status of existing issues
Track issues and questions until they're fixed or answered
Email reports to update other team members
Maintain an audit trail of what has been done - audit trails show authors, dates and times
Executive dashboard enables field data oversight
Connect equipment with object model information
Update equipment records in the field
Mark up drawings and photos to illustrate issues or checklists
Fill out quality, safety and commissioning checklists in the field
View and navigate Building Information Models of many different types
Share your model using the cloud-based BIM 360 Field Library
Link your models to the BIM 360 Field equipment database to track progress and record issues
Share data with your whole project via the BIM 360 Field website
Tag issues and checklists to project locations and responsible companies
Templates based on industry, company or project standards ensure consistent inspections