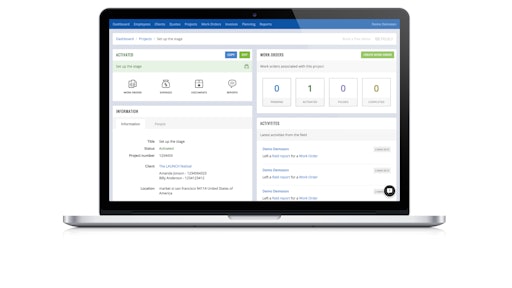 Mobile app: Fieldly
Developer: Fieldly AB
Cost: Monthly subscription costs vary
Available on: Apple and Android devices
Construction contractors can use the Fieldly mobile app to manage day-to-day field work and construction projects. Fieldly was specifically designed for the construction industry to help simplify and improve operations, communications and the overall working experience for all participants between the office and the jobsite.
Fieldly was designed for use in any size and type of construction company, and the Fieldly mobile app is used in conjunction with the web-based management system for the office.
Fieldly can be used to manage:
All customer or client info
Project quotations
Preparation and approval workflows
Work order assignment
Scheduling and planning
Jobsite location and contact details
Field reporting
Job progress tracking
Real-time expense and time reporting.
Supervisors can use the app to plan and manage daily operations. The web-based control panel provides supervisors with full control, an effective means of communication and automated reports.
Field employees can use the app to get projects and work orders sent directly to their smartphones. Employees can also use the app to collect time, trip, material and field reports while on the job.
The Client Zone is a dedicated area where clients can track their projects and work orders in real time. Clients can also get a quick overview of current costs.
The complete Fieldly package is available in five price options: small, medium, large, extra large and enterprise. These subscriptions range from $45 per month to up to $250 per month.
App features:
Create detailed quotes which customers can accept digitally and can be converted to a project with the click of a button
Collect time reports and connect them automatically to projects or work orders; generate reports for payroll or billing
Last selected start and end time and break are prefilled at new time report
Collect work orders that occur in the same geographic location in practical projects; follow all details in real time
Activity feed provides quick overview of what employees are doing; allows for monitoring of progress of work
Attach multiple files to projects and work orders
Detailed final reports after work order completion can include text and images
Field reports linked to geographic coordinates
App saves associated coordinates for almost any action a worker makes
Travel reports collect data for duration, distance and average speed
Costs for travel, time tasks, etc. are automatically calculated moment activity is completed
Display employees, projects and work orders on large map to facilitate planning and delegation of work orders
All projects and work orders converted to invoices that can be sent to client digitally or imported directly into accounting software