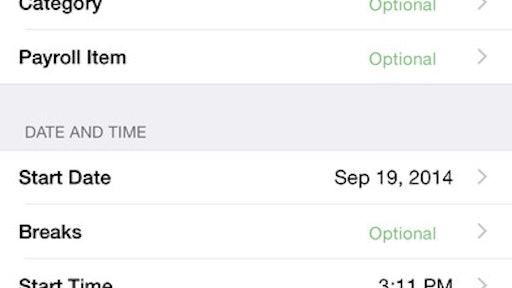 Mobile app: Time Master
Developer: On-Core Software LLC
Cost: $9.99
Available on: Apple and Android devices
On-Core's Time Master mobile app can track both time and expenses. Time tracking can be started with a few taps on the screen. Users can track time by start, stop and/or duration. A sessions option can track "punch-in and out" for a single time entry.
Time entries are by client and can be subcategorized by project and tasks.
In addition to tracking time, Time Master can also be used to track expenses including mileage.
Time Master also has optional modules available for a one-time additional fee. These modules include invoicing for billing directly from your mobile device. You can also send professional PDF invoices to clients.
Another optional module is Quickbooks export which can export time entries to Quickbooks.
App features:
Single or multiple running timers
Timer continues to run even if the app is not running
Define billing rates by priority including: global, client, project, task or custom
Set up expenses for recurring fixed cost items
Multiple filters to sort and view
Display reports right on the device
View and export reports via email in HTML and/or CSV format