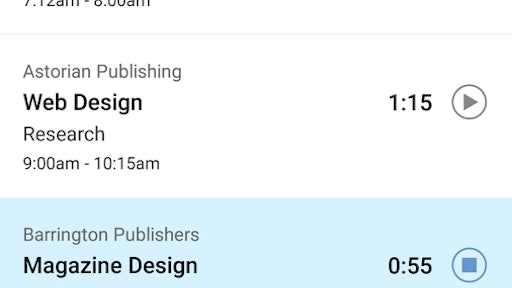 Mobile app: Harvest Time & Expense Tracker
Developer: Harvest
Cost: Free with Harvest account
Available on: Apple and Android devices
Track time, log expenses and manage invoices in the office or on the job with the Harvest Time & Expense Tracker mobile app. Users can enter timesheet data into the app and supervisors can view and approve the team's time.
The expense tracker allows users to capture receipt photos with your mobile device as you enter expenses. It can also be used to track mileage and more for reimbursement needs.
In addition, Harvest can also manage invoices. With the app you can send and resend professional invoices, record and remove payments, view invoice history and receive push notifications for payments.
The Harvest mobile app is available with a Harvest account. Pricing for a Harvest account depend on the number of users. It starts with a free plan for one user and a limited number of projects. The Solo plan starts at $12 per month for one user and unlimited projects. The Basic plan starts at $49 per month for five users and adds on to the features of the Solo plan. Finally, the Business plan starts at $99 per month for 10 users and incorporates the same features as the Basic plan. Additional users can be added for $10 per user per month.
App features:
Track time online or offline
Administrators can view teammates' times in real-time
Tap to start/stop project and task times
Supports manual entry of billable and nonbillable hours
Review detailed task notes for project tracking
Reminders to submit time (timesheet approval)
Notifications when clients pay invoices
Time summary allows user to view total hours for the week, month or day
Built-in reporting analyzes data
Run reports on billable and nonbillable time for specific staff, tasks, clients and projects
Set hourly and fee-based budgets to track project progress
Integrates with over 80 popular apps to seamlessly fit into your workflow