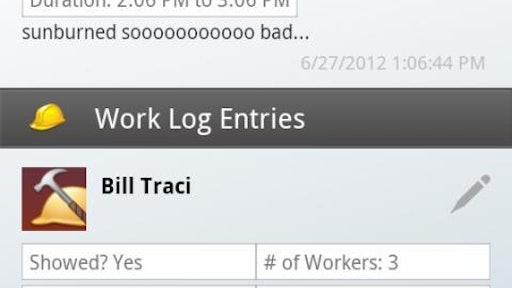 Mobile app: OnSite Logging
Developer: UDA Technologies, Inc.
Cost: Free
Available on: Apple and Android devices
Record, organize and store all your construction project activity in one place with the OnSite Logging mobile app. The OnSite Logging app includes capabilities for project logs, weather tracking and resource tracking.
In addition to recording traditional work logging methods, the OnSite Logging app allows users to take pictures and videos of jobsite progress and attach them to a log.
Once you finish your logging, the information is uploaded to ConstructionOnline where you can create automated log reports to summarize all activity for any defined period in a professional document. Generate daily, weekly, monthly or any date range reports which can include all entries or only specific log types.
You can also share plans, project documents, change orders, estimates, schedules, photos and more with other project stakeholders.
App features:
Weather tracking – enter project zip code and Weather Tracking will show the recorded weather at the jobsite five times throughout the day
Auto weather logs automatically record weather data throughout the day
Work Log – record essential information about what happened at the jobsite each day
Visitor log – make note of any project and jobsite visitors during the workday
Delivery log – keep track of all deliveries
Project notes – enter project notes for each day and add attachments such as pictures and videos
Custom delay – enter delays and delay durations not related to weather