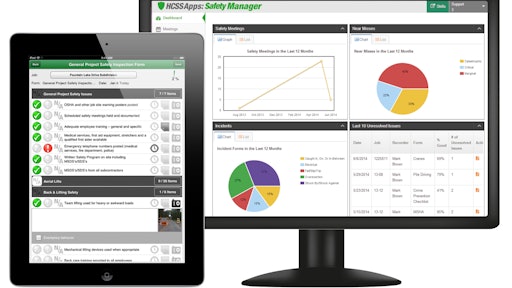 Mobile app: HCSS SafetyDeveloper: HCSSCost: Subscription basedAvailable on: Apple and Android devices
Track and monitor the progress of your employees, environment and jobsite compliance through the HCSS Safety mobile app to help formalize your safety program. "HCSS Safety is a comprehensive safety management system that helps your company create a culture of zero incidents and allows your employees to keep safety top of mind at all times," says Brooke Pankey, product manager at HCSS.
The mobile app features 623 pre-built meetings and toolbox talks, 165 pre-built inspections and 200 pre-built Job Hazard Analyses. If those don't work for your company, users also have the ability to create their own templates.
Mobile app users can record, report and notify managers immediately when an incident occurs rather than having to fill out tedious paperwork later. Near-miss occurrences can also be recorded and reported.
Safety managers can run customized and comprehensive reports to review all data received from the field and help spot leading indicators or worrisome trends and make changes before incidents occur.
The Basic Safety plan covers up to 10 users at a cost of $5,000 per year. The Basic plan's features include meeting and inspection templates, reporting, customization and more. Additional users can be added for $28 per month. 
The Pro Safety plan covers up to 10 users at a cost of $10,000 per year. The Pro plan includes all the features of the Basic plan plus the JHA templates, near miss and incident reporting, skills and certification tracking, electronic alerting, meeting scheduling and more. Additional users can be added to the Pro plan for $42 per month. 
App features:
Pre-built OSHA 300 Log report
Record meeting, inspection and near miss information from the field

Show all near misses and incidents by location and by date range

Access all your crew and equipment certifications, skills and assignments for easy on-site documentation
Receive customized electronic alert notifications when new near misses or incidents occur or when someone needs to renew a license
Send requests and reminders to all workers to notify them of upcoming meetings
Run reports on all data received from the field
Integrate with HeavyJob for access to all your field operations in one place