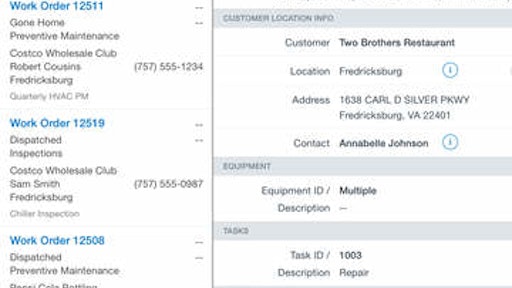 Mobile app: PENTA Mobile Field Service
Developer: Penta Technolgoies, Inc.
Cost: Free
Available on: Apple devices
Designed to work with PENTA Enterprise Software, the Mobile Field Service mobile app lets field technicians and service contractors perform most job functions without disruption regardless of network availability.
The app provides technician users a list of assignments, details about each assignment, the associated customer, service history, customer equipment details and history, parts lists, task lists and more.
Field technicians can also use the app to record customer equipment information, labor, materials, parts, tools, field notes and more. Plus, they can record customer sign-off right on the mobile device.
The My Work List features allows app users to review a list of their current assignments including work orders, on-the-job assignments and overhead tasks such as meetings.
The PENTA Mobile Field Service app allows users to record:
Labor
Parts or materials used
Miscellaneous filed purchases
Tool charges
Equipment condition assessments
Equipment meter readings
Field notes and photos
Description of work performed
Recommended repairs
App features:
Assignment status tracking
Customer location details
GPS mapping of assignments with turn by turn directions
Identify customer equipment via barcode scanning
Equipment inspection history
Self-scheduling of assignments
Review your personal work history
Summary presentation outlining what was done, results, terms and conditions