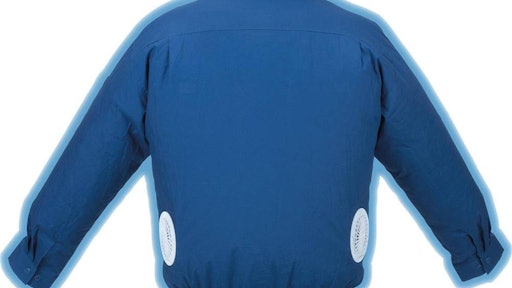 Continuing the 12 Days of Construction Christmas 2018 gift list...
One the twelfth day of Construction Christmas — Makita 18V LXT Fan Jackets
It may be December now, and cold in most parts of the country, but that doesn't mean you can't start planning for those long, hot summer construction days. Makita has recently released a new line of cordless fan jackets designed to help keep workers cool in hot conditions.
The 18V LXT Lithium-Ion Cordless Fan Jackets are available in a cotton and Titanium-coated polyester/UV resistant models. The recessed fans in the jacket circulate air inside the jacket. The fans are powered by a Makita 18V LXT Lithium-Ion battery.
The battery slides onto the power source, which has an integrated belt clip to keep it within reach but out of the way.
The jackets feature three air flow modes plus a turbo mode. Users can adjust the air flow to the work conditions. The fans provide air circulation inside the jacket for up to 15 hours on high, according to Makita.
Additional features include two ice pack storage compartments on the back of the jacket for increased cooling. The jacket sleeves can be folded into short sleeves. There is also an on-board USB power port for charging portable electronic devices.
Jackets are available in sizes from small to 3XL.
Looking for other construction-related gifts? Check out the rest of 2018's 12 Days of Construction Christmas gifts:
Day 2 – Ergodyne Bottle Holder
Day 4 – The LEGO Technic Volvo Concept Wheel Loader ZEUX Set
Day 5 – Personalized Tree Ornament
Day 7 – Fiskars Pro Utility Knives
Day 10 – Leadership Training Manual