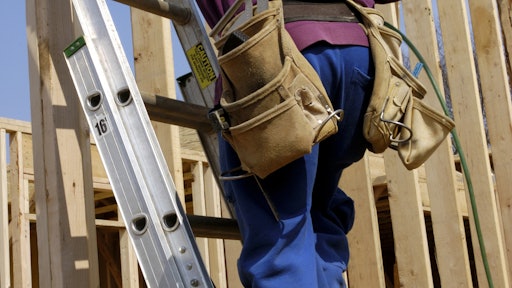 ISTOCK/GETTY IMAGES
We may be nearly halfway through March, but there's still time to recognize that March is Ladder Safety Month, spearheaded by the American Ladder Institute (ALI). Throughout the month, special focus is being placed on key areas including:
What is ladder safety?
Ladder safety training and year round partners
Ladder safety at work
Ladder safety at home
Ladder inspection and disposal
Why focus on ladder safety? Because every year over 100 people die from ladder-related accidents and thousands more are injured. And most of these accidents are preventable. The goals of ladder safety month are not only to improve awareness of ladder safety but also to increase the number of ALI issued ladder safety training certificates, increase the frequency of ladder safety training module views, lower the number of ladder-related safety OSHA citations, increase the number of companies routinely inspecting their ladders and, of course, decrease the number of injuries and fatalities.
OSHA Ladder Safety QuickCard
Ladders are a commonplace tool at most jobsites and homes. We often don't think twice about our ladders. We have them. We use them — often until they break, which can be a little too late from a safety standpoint. But like other tools, they need to be used correctly and inspected frequently to ensure they are up to snuff.

When you think ladder safety you probably think the basics — mainly don't fall off the ladder. But on a construction jobsite, ladder safety can often be a lot more complex. Sure, you don't want to fall off your ladder, but do you know the safety procedures to prevent that? And are you and your co-workers following these safety standards?
How to Choose the Right Ladder for Your Construction Jobsite
Contractors working on ladders usually aren't up there by themselves. They usually have other tools and materials with them. Not all ladders are created equal when it comes to how much weight they can support. Contractors should make sure they are following weight/load recommendations when using ladders.
Another important safety consideration is the angle a non-self-supporting ladder is at when in use. How many of you just eyeball where you think the ladder should lean so you can reach the spot you need? Did you know there's a specific position these ladders should be set in? According to OSHA, non-self-supporting ladders that need to lean against a wall or other support "are to be positioned at such an angle that the horizontal distance form the top support to the foot of the ladder is about one-fourth the working length of the ladder." Wooden ladders should be angled to equal about one-eighth of the working length.
Why You Should Enforce Ladder Safety
Here are a few more OSHA recommendations for ladder usage and safety. Remember, these aren't just tips say "hey this would be good to do." This is your safety we're talking about here.
A competent person must visually inspect all ladders before use for defects such as missing rungs, bolts, cleats, screws and loose components

Allow sufficient room to step off the ladder safely; keep the area around the bottom and top of the ladder clear of equipment, materials and tools

Before setting up a ladder, survey the area for potential hazards including overhead power lines

Keep ladders at least 10 feet away from power lines

Set the base of the ladder so both side rails are evenly supported

Train workers to use ladders safely

Maintain a 3-point contact when climbing up or down a ladder

Always face the ladder when climbing up or down

Keep your body inside the side rails

Never carry tools in your hands while climbing up or down a ladder

Extend the top of the ladder 3 feet above the landing

Keep ladders free of slippery materials

If a ladder is damaged remove it from use immediately

When it comes to ladder selection, one ladder does not fit all. Make sure you are selecting and using the right ladder based on the expected load capacity, the type of work being done and the height needed.
Take some time this month to review ladder safety with your team. It may seem simple, but it could save a life.
Just for fun
After taking time to focus on ladder safety, consider lightening the mood a little around the office by celebrating some of these additional special holidays and celebrations taking place in March:
March 17 - Conred Beef and Cabbage Da7 (I wonder why...)

March 20 - International Earth Day

March 21 - Credit Card Reduction Day

March 22 - National Goof Off Day (save it for outside of work hours)

March 23 - National Chip and Dip Day

March 25 - Waffle Day

March 26 - Make up your own holiday day (this could be a fun office content)

March 29 - National Mom and Pop Business Owners Day

Did you like this blog? Read more Construction Toolbox blog posts on ForConstructionPros.com.
Also, check us out on Facebook and connect with us via Twitter.