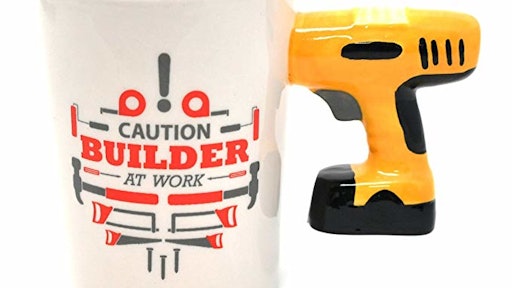 Amazon.com
Continuing the 12 Days of Construction Christmas 2019 gift ideas...
One the seventh day of Construction Christmas my boss gave to me — Novelty coffee mugs
Just like novelty t-shirts, there is no shortage of construction-related novelty coffee mugs. Consider teaming this gift up with one already featured on our countdown this year, the Makita Cordless Coffee Maker. Gift the coffee maker to the entire crew and then individual novelty coffee mugs to each worker — just a suggestion!
You can find construction-related coffee mugs on many online shopping outlets. A quick search on Amazon didn't disappoint. This one I found has a drill for a handle. I also saw the same mug with a hammer handle. Why not give a gift that is useful but also brings a bit of humor to the jobsite or the morning breakfast table?
Looking for other construction-related gifts? Check out the rest of 2019's 12 Days of Construction Christmas gift ideas:

Day 1 – Makita Cordless Coffee Maker
Day 2 – Crescent Tool Storage Bags
Day 4 – Weather appropriate gear