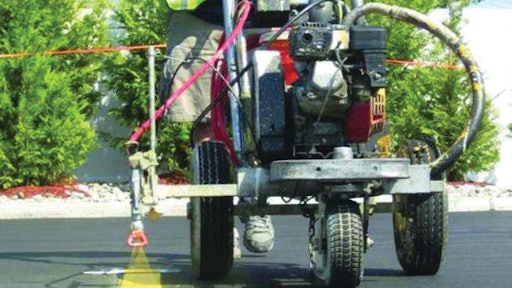 January's issue features Steve Brahney's approach to job costing along with insights into what impact instituting job costing has had on his company. Here are two more tips Brahney Pavement Solutions relies on.
"Push-button" service
To better service its customers Brahney Pavement Solutions has developed what it terms "push button" service, available through its website. Available to clients under contract who have multiple properties, the service is used extensively by customers needing immediate help for pothole repair, car stop or bollard repair, striping touch up, any trip or liability hazard, and a variety of other must-fix jobs.
Fees for the service vary but a base fee increases the farther the property is from the contractor's Hillsborough, NJ, headquarters. Property managers who want to use the service can enter a work order online and the contractor responds as soon as the order is placed.
Idle equipment can make you money
Equipment is great when you need it, but when it sits, you might as well just stick vinyl dollar signs on it because it's costing you money. If you have equipment that you work only one or two days a week – yet you determine that you really need it to complete your projects -- consider leasing it to other companies, creating a secondary revenue stream. For example, many contractors are on the lookout for companies with reliable dump trucks (with or without drivers) to deliver asphalt. A spare "experienced" paving crew is also in demand. When working on smaller projects for our national accounts, it's sometimes not feasible to mobilize to another state for a small project. So we sometimes "lease" a paving crew and dump trucks from a screened local contractor, paying them per day while we supply the asphalt. These are areas that could contribute revenue to lessen your overhead burden.