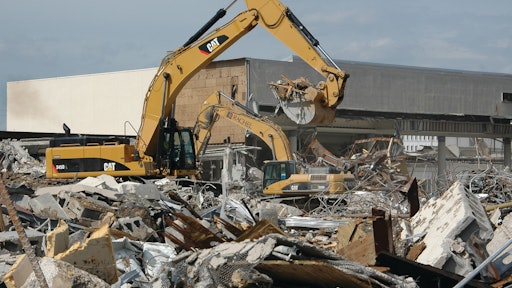 Information from this article was first published in Demolition Magazine and is being reused with permission from the National Demolition Association.

In late 2011, Rachel Contracting demolished nearly all of the former Brookdale Shopping Mall in Brooklyn Center – a suburb of Minneapolis - in just eight weeks. "That's about a third of the normal time for a project of this size," said Nick Bartemio, senior demolition project manager for Rachel.
"Because of Brookdale's sheer size and scope, we began working seven days a week for about three weeks to get us off to a good running start in order to meet a tight eight week schedule," he said. New construction began almost immediately after the demolition to transform the 49-year-old landmark into an all-new retail complex called Shingle Creek Crossing.
Demolition of approximately 800,000 square feet of the mall included areas where Macy's, Mervyn's, J.C. Penney, and numerous other retail operations used to be located. A Sears store, one of Brookdale's original anchors, remains at the site and will stay open throughout the new construction.
Besides the tight deadline for completion, Rachel faced many significant challenges. "Early on there were delays to disconnect electrical power from areas to be demolished because Xcel Energy needed their crews to restore power to other areas in the Twin Cities that had experienced severe damage from storms," Bartemio said.         
The contractor also had to separate the Sears store from the rest of the mall by hand. Rachel's crew was able to accomplish that phase of the project on schedule without blocking access to the store or disrupting the store's operations.
In addition, Rachel had to work around Brookdale's newly remodeled food court area, which was to be reused in the new shopping complex.
Getting it Done
After another subcontractor removed asbestos and other hazardous materials, Rachel's crew went inside the mall to demolish and take out remaining debris. Materials including metal cabinets, shelving and display materials were salvaged.
Rachel then focused on separating the Sears store using hand tools and small power equipment to work up through walls, ceilings and various finishes to the roof. Column lines and structural forms were located, which enabled workers to remove concrete, brick and steel, and leave a common wall to prevent access to the store from inside the mall.
Next, Rachel used heavy equipment - including a number of excavators, a rubber tire loader and several Cat skid steers - to knock down walls and ceilings of the rest of the mall.
Rachel contracted with dozens of trucks, which ran constantly every day to haul away tons of miscellaneous metals for salvage and recycling and to carry debris to area landfills. All the concrete was crushed on site and is being used in the new construction. Rachel also recycled acres of bituminous material from the parking lots and installed erosion controls and a security fence around the site.