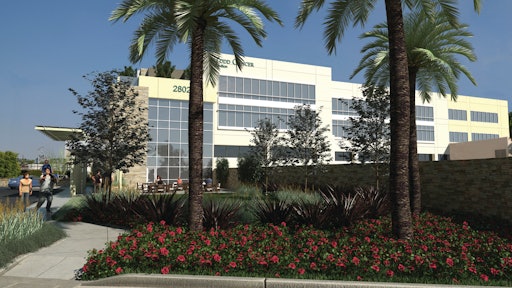 The Challenge:
Construct Long Beach Memorial's new cancer pavilion, which will be built from an existing building above a loading dock, the main data center for the campus and a lab that services the hospital 24/7.
The Players:
McCarthy Building Companies, Inc. – general contractor
c|a ARCHITECTS - designer
MHP, Inc. – structural engineer
Pfeiler & Associates Engineers, Inc. - civil engineer
Donn C. Gilmore & Associates, Inc. - electrical and mechanical engineer
Cummings Curley & Associates, Inc. - landscape architect
The Process:
The nationally recognized MemorialCare Todd Cancer Institute at Long Beach Memorial treats more than 1,800 newly diagnosed patients per year, and is one of the largest cancer centers in Southern California. McCarthy Building Companies, Inc., has recently begun construction of the new $31 million (development cost) MemorialCare Todd Cancer Institute Pavilion at Long Beach Memorial. Located in an existing building on the Long Beach Memorial campus in Long Beach, Calif., the new pavilion is scheduled to open early in the summer of 2013. Once completed, the new state-of-the-art medical facility will increase the institute's capacity and consolidate cancer programs and cancer support services under one roof.
Serving as general contractor for the project, McCarthy's scope of work includes transforming 65,000-square-feet on the second and third floors of an existing four-level administration building into a dedicated cancer treatment center. The project also includes construction of a two-level, 1,913-square-foot lobby addition which will serve as the entrance to the new pavilion. McCarthy will also do the structural concrete work and construction of the site retaining walls for the new facility.
"The most challenging aspect of this project is that the new pavilion will be constructed above a loading dock, the main data center for the campus and a lab that services the hospital 24/7," said McCarthy Project Manager Ileana Holguin.  "McCarthy has developed a comprehensive plan to maintain infection control in the sensitive lab environment and to mitigate any disruptions to the existing hospital operations while conducting work on the new facility."
McCarthy is currently demolishing a portion of the existing building which will be converted into the cancer pavilion. After the demolition work is completed, construction of the footings for the new lobby and building entrance will begin.
McCarthy is using Autodesk Navisworks 2012 and Revit 2012 to create 3D representations of some of the elements in the existing facility for construction coordination. "The use of 3D models help to eliminate any field conflicts and aids in the quality of construction," said Holguin.  "Other quality procedures include the implementation of an electronic plan room and in-place mock-ups for portions of the project requiring special attention such as the various infusion rooms and restrooms with specific ADA requirements and detailed finishes," she added.