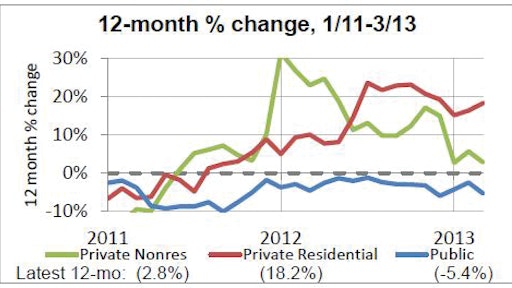 Construction-industry economists brought together for a Reed Construction Data webcast in May revisited 2013 forecasts through the lens of first-quarter results.
The various sectors of the construction economy presented a mixed bag of performance in the first quarter of 2013, but the consensus among Bernard Markstein, chief economist with RCD; Kermit Baker, chief economist with the American Institute of Architects; and Ken Simonson, chief economist with the Associated General Contractors, is that the industry continues to grow at about the same pace as in 2012.
It's agonizingly slow but consistent with earlier forecasts, and far better than the slide the industry experienced from 2008 to 2011. A little attention to the various sectors quickly identifies the best business opportunities.
Flip through the graphs in this article's image carousel for the 2013 construction forecast details.