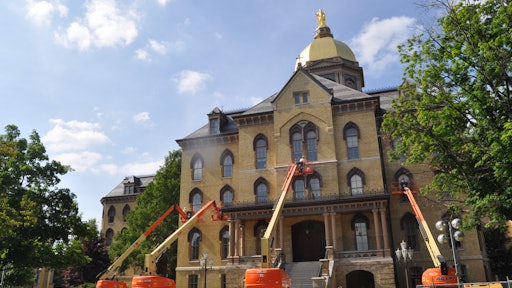 The challenge:
Restoring the exterior of the iconic main building on Notre Dame's campus within a tight summer break time frame
The players:
University of Notre Dame
MacAllister Rentals
The process:
When it came time to schedule restoration work for the University of Notre Dame's main building, which supports the famous golden dome, project manager Tony Polotto and his team were on a tight deadline to finish the project before school was back in session. He turned to MacAllister Rentals to provide him with the right equipment at the right time to allow workers to restore the exterior of the historic landmark. 
Eight JLG aerial work platforms (AWPs) — six 660SJ and two 860SJ telescopic boom lifts — are enabling workers to restore the exterior of the historic landmark, replacing failed window and mortar sealant joints, repairing cracked and damaged brick, tuck pointing, replacing decorative ornamental metal features, painting soffits, cornices, window trim, and porches, and power-washing the building's exterior.
The five-story structure serves as headquarters for the university administration.
"And that's why the decision was made to schedule the restoration work in the evening," says Tony Polotto, senior project manager, facilities design and operations at Notre Dame. "As you can imagine, many phone calls and important meetings take place each day behind the walls of this building. Imagine the distractions that grinding brick, hacking out window sealants and power washing create. In addition to the noise, there's the chance that dust or water will infiltrate the building. So we thought it made sense to work at night. In addition to the crew at work on the exterior, we station someone inside the building to see if anything seeps inside, and if it does, we immediately clean it up before the building opens for the day."
Lifts perform double duty
The lifts in use at Main Building are getting a workout. In fact, as Polotto explains, they're doing double duty. "We're doing a complete masonry restoration on nearby Corby Hall."
"When we finish our work at the Main Building, we move the equipment over to Corby Hall, and a fresh crew arrives in the morning to use the lifts throughout the day. When they finish at Corby Hall, we move the lifts back to the Main Building for the night shift. That way, when our administrative staff arrives for work in the morning, there are no lifts present and no evidence that lifts were there just a few hours earlier. It works out really well. We don't have to rent two sets of equipment, and we can do two projects at once, as long as we have the manpower to do the work. It couldn't have worked out any better."
Tight schedule demands reliable equipment
According to Polotto, the crew mobilized at 5 p.m. and worked until 2 or 3 a.m. "The majority of the work we do here on campus has to happen between graduation at the end of May and when students return to campus, roughly around August 15," explained Polotto. "This time of year we're busy 24 hours a day, seven days a week. So there's no room for equipment failure."
Which is why Polotto appreciates the reliability of the AWPs at work on the Main Building.  
"Equipment reliability is paramount because of our tight construction timeframes," he noted. "When we only have 10 weeks to complete a project one day without a piece of equipment is huge — expensive in terms of hours lost and wages that still need to be paid. And with these machines, we don't worry about hydraulic line spills, which could absorb into the brick and be very difficult, if not impossible, to remove, because the bricks are so porous."
Extended reach improves accessibility
The JLG 660SJ and 860SJ provide the reach needed to accomplish the job, with platform heights of 67 and 86 feet respectively and a horizontal outreach of 57 and 75 feet. In addition, the jib boom and basket rotate, allowing additional functionality and access to hard-to-reach areas of the building.
"The compact size and extended reach of these machines is really important to us," said Polotto. "The articulating jib allows us to access areas that might otherwise be difficult to reach and reach safely."
Lifts replace scaffolding
As a result, Polotto says the university rarely uses scaffolding, even though he estimates 85% to 90% of the projects on campus require working at height. "Scaffolding is very expensive, time-consuming to put up and take down, and typically damages landscaping. With lifts, we can be in and out quickly, completing a task and leaving the landscaping as we found it. They're especially helpful when we repair our slate roofs. You can't walk on slate or you will damage it, so we can't scaffold the side of a building and use that as a platform to walk on the slate. The best way to do any slate repairs is from a lift. The articulating action of the lift gets us right up to the slate areas safely, without touching the roof. Our workers can do their repairs and move around the entire roof, leaving no damage in their wake."
According to Polotto, lifts also allow the splendor of Notre Dame to take center stage. "A lot of people visit this campus, including students, parents, kids registered in camps, etc., so it's important for us not to conceal the beauty of the property. We'd much rather have a lift occupying a small space than scaffolding an entire wall, which really detracts from the buildings, especially when we're dealing with key buildings such as Main Building and the Basilica."
As Polotto's crew works on the Main Building, they are scattered around the structure, tuck pointing and mechanically abrading the old surfaces, removing loose paint and sanding, taking out sealants, and replacing damaged brick. When it's time to clean and paint the building, work will flow from the top down. Throughout the process, workers rely on power tools to accomplish a variety of tasks, which makes the lifts' onboard generators a real plus.
Onboard generators reduce noise, save time
"Noise on campus is always a problem," said Polotto. "The nice thing about these lifts is that they're designed to be very quiet, almost like running a car. But almost every part of this particular project requires the use of tools that need generators to operate; generators that can introduce more noise as work is performed.
The nice thing about this equipment is that power is available on the lift itself. We don't have to operate separate, noisy generators on the ground, with extension cords that create safety hazards. Generators on the lifts are so convenient and lessen the noise impact on campus, especially when we're working at night, which is a feature we all love."
Polotto is equally pleased with the source of all of the lifts — MacAllister Machinery and his contact at MacAllister Rentals, Chris Dennis.
"They provide us with great equipment — whatever we need, whenever we need it, and it always looks brand new," said Polotto. "We're very proud of our prestigious buildings, like Main. When we look out and we see a number of brand new lifts on the building, it shows the level of commitment that our contractors, vendors, and suppliers have to us — that they're just as proud of Notre Dame as we are and go out of their way to make sure we always have great equipment and operators who want to do their best work." 
Companies in this article