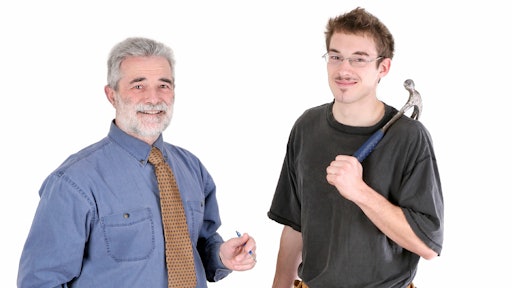 By Joanne Nikolski

The Baby Boomer generation is defined as those born roughly between 1946 and 1964. That means that today, this generation is between the ages of 53 and 71, and they are retiring at a rate of 10,000 people per day. Given these statistics, guiding new graduates into the construction industry has never been more important.

Within 10 years, the Baby Boomers will be completely in retirement mode. All types of construction companies will find themselves saddled with work and without anyone skilled enough to do it. To prevent skills gaps from impacting your company when your talented construction professionals retire, it's crucial to start investing in emerging talent today.

First, change your recruiting strategies
For workers from the Baby Boomer and Generation X groups, work was primarily about improving their lives, with career advancement, personal prestige and money. They defined competitive salaries, comprehensive benefits and opportunities for financial growth as the most important criteria when deciding whether to take or stay with a job. For Millennials, who now occupy the majority of the workforce, and the Generation Z cohort that follows them, those things are still important, but they're no longer the most important considerations. Instead, these generations place a premium on the ability to make a difference in their organization and in the world.

Tap into that desire to make a difference, and shift your recruitment strategies from focusing primarily on compensation to emphasizing your company's commitment to having a positive impact on the community and the world. If you don't already have one, create a community outreach program and incentivize your employees to participate. Or, develop a task force dedicated to researching ways to improve your company's environmental impact, both in-house and through your contracted projects. We have seen that if you show up-and-coming talent that you are as excited as they are about making a difference, they will be much more likely to get on board with job opportunities they may not have considered before.

Mentorship vs. internship/apprenticeship
Once you have positioned your company to attract fresh talent, it is important to understand the different ways in which you can invest in and develop that talent. You may already have certain entry-level development practices within your company, but there are several features of mentorship programs that make them unique from (and, in some ways, superior to) internship and apprenticeship programs. First, internships and apprenticeships tend to be standardized, and are designed toward one specific goal; for example, interns may receive college credit and a generalized introduction to the workforce, while apprentices tend to earn certifications or other technical designations. On the other hand, mentorships can be very customized and flexible — they can be adjusted to suit a particular mentee's goals and learning style, and they do not have a fixed end date. Mentor-mentee relationships can last throughout the duration of a mentee's career, including after a mentor has retired.

In a mentorship situation, the mentor and mentee connect one-on-one, which strengthens the personal relationship and allows for low-pressure, high-value conversations. In addition, unlike an internship or apprenticeship program, mentorship programs benefit both the mentor and mentee in equal measure; while mentees gain insights into the construction industry and grow their networks and skill sets with the help of experienced workers, we have seen time and time again that those experienced workers are eager to mentor and coach incoming talent. They understand that without passing on their wisdom and experience to a new generation of workers, that knowledge could all get lost. What a waste! Mentees can also provide help with new technologies and bring fresh perspectives to old problems. By pairing up talented Baby Boomers with eager, new workers, you provide each of them with opportunities for growth and express confidence in their respective, unique abilities.

How to build (or improve upon) your mentorship program
As important as recruiting high-potential talent is, it does not have to be complicated. Challenge each of your construction workers who are heading toward retirement to find a mentee, and open the challenge to the rest of your organization. Whether they're looking within their own families or considering potential candidates from shared volunteer opportunities or neighborhoods, you'll be surprised by how many employees might know recent or soon-to-be graduates who are looking for excellent, long-term career opportunities. Reach out within those networks and implement the new recruiting strategies you've developed! You can also connect with local community colleges, universities or high schools, taking advantage of career centers or guidance counselors who can guide promising students into your program.

Once you identify and attract potential mentees, make sure that you are very strategic as you pair them with a mentor. You know your workforce well. Have a frank, open discussion with the student or new employee to determine their career goals, key personality traits and communication styles, and use that information to determine which experienced construction professionals would be a good fit to coach them. You want their communication styles to be compatible, but you also want to consider what each person can learn from the other. For example, if you have a mentee who is technologically advanced and who has an excellent work ethic, but who struggles interpersonally and worries about their ability to network well and communicate effectively in the workplace, pair them with a strong communicator within your organization who is recognized as a respected leader but who may not have as much expertise on the technical side of the construction industry.

Mentors and mentees should be in regular contact, especially at first. Encourage a minimum of one weekly meeting, for lunch or at the office, where they can discuss what is going well, find opportunities for improvement and build their relationship consistently. As the relationship develops, they may work out their own meeting times and communicate differently, but at the outset a regular schedule will help build the habit of staying in touch.

It is also important to ask for regular feedback from participants in your mentorship program — both mentors and mentees. Set up an anonymous feedback system that will allow you to gauge how effectively you are matching your mentor-mentee sets, how supported each person feels and how you can improve your program to serve everyone's needs better. After all, a great mentorship program benefits your company culture as much as it benefits the individual participants.

The key to the future of the construction industry is identifying, recruiting, and training new graduates who want the chance to make a difference, as well as to earn a living. We are seeing companies invest in this talent pool and use mentorship programs to provide lifelong skills and relationships to up-and-coming construction professionals, and it is paying off as they strengthen their organizations and eliminate the threat of a skills gap when their experienced workers retire. Don't get left behind; start planning for the future today, and your company can coast through the generational workforce shift with a strong team of talented, loyal construction workers.
Joanne Nikolski joined Kimmel & Associates in 2007, bringing with her more than 25 years of experience in recruiting and sales. She is now a Senior Recruiter in the General Construction Division. Joanne also specializes in the disaster restoration industry.