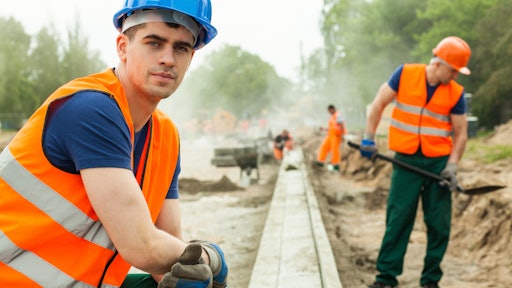 iStock
Construction laborers can have a wide range of physical labor tasks on construction sites include digging holes, mixing concrete, cleaning and preparing jobsites, erecting scaffolding and even installing drywall. They can also work on maintaining buildings and infrastructure such as roads and highways.
Construction laborers may operate hand and power tools and sometimes construction equipment. Their jobs may also require them to assist other craft workers on the jobsite.
Since construction laborers are needed to perform tasks on many different types of construction projects, their salaries can greatly depend on their specific skills, the industry they work in, location and years of experience.
Consider the following statistics in the construction industry regarding salaries, but remember that a construction laborer's salary can depend on many different factors.
According to the website payscale.com:
The average salary for construction laborers in the United States is somewhere between $24,000 to $66,000.
Skills that earned the most:
Safety compliance
Heavy equipment operation
Precision measurement
Skills that earned the least:
Siding installation
Cleaning
Roofing materials installation 
Other factors to consider such as health benefits:
37% have medical
26% have dental
21% have vision
62% have none
According to May 2018 data from Bureau of Labor Statistics:
There are currently 1,001,47 construction laborers employed. The average wage for all occupations is $19.40 per hour or $40,350 per year.
The top percent of earners in the industry make an average wage of $31.53 per hour or $65,590 per year. 
The top paying states for construction laborers are:
Illinois - $59,960
Hawaii - $58,770
New Jersey - $53,540
Massachusetts - $52,780
Minnesota - $52,150 
Average wages vary by industry:
Construction laborers who worked for specialty trade contractors earned an average of $40,020 per year.
Construction laborers who worked for residential building construction earned an average of $37,910.
Nonresidential construction laborers earned $43,330.
Highway, street and bridge construction laborers earned an average of $46,010.
According to the website Salaryexpert.com, average salaries for construction laborers also vary by experience level:
Entry level general construction laborers (1-3 years of experience) earn an average of $26,855.
Senior level construction laborers (8+ years of experience) earn an average salary of $41,671.
Education levels for construction laborers also vary, but the majority only have a high school diploma.
9% have less than a high school diploma
82% have a high school diploma
9% have an Associate's degree 
Overall, this occupation isn't heavily dependent on education but it is on skills and experience. So, the next time you are thinking about applying for a job think about whether you possess the skills that will give you a higher market worth.
Also, consider safety. Many construction sites include dangerous equipment and terrain for construction laborers, so a good tip would be to think about what health benefits you will be receiving. Having added health benefits such as medical could help enhance your salary.