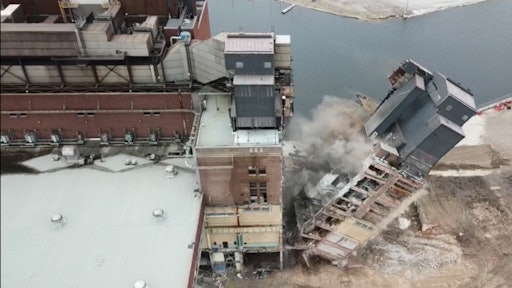 National Demolition Assoc.
In April 2016, after 67 years of operation, the Consumers Energy Company closed the B.C. Cobb Power Plant in Muskegon, Michigan, in an effort to move to cleaner energy. The power plant, which opened in 1948, had two coal-fired generating units capable of producing 320 MW of electricity, and a 650-ft.-tall smokestack.
Project Statistics

Concrete recycled: 20,000 tons
Masonry materials recycled: 60,000+ tons
Abatement crew size: 120
Demolition crew size: 15
Project duration: 2 years, 5 months
In October 2017, NDA member Bierlein began work on the abatement, environmental decommissioning and demolition of the 115-acre site, which contained a boiler house, precipitators, turbine hall, coal-handling equipment and smokestack.
A contracted crew of approximately 120 workers worked to efficiently and safely abate the main part of the site. While crews worked on the abatement, a crew of roughly 15 workers began demolishing smaller structures.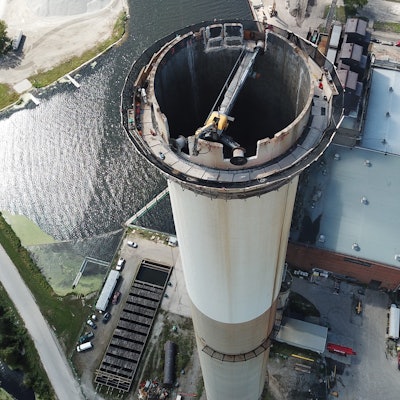 "We had to ensure the site was environmentally safe, preventing anything from seeping into sewer drains by laying silt sock and catch basin sediment drain filters for erosion control," says Jeramey Bierlein, marketing specialist at Bierlein.
With abatement completed, the Bierlein crew began interior demolition, gutting certain areas of the power plant before felling took place. Once this was complete, the crew used a wrecking ball to break exterior brick and debris from the structure. Before any mechanical or explosive felling could occur, the crew made "a number of precise, engineered torch cuts."
While Bierlein used conventional demolition techniques for a majority of the job, a Mantis system was brought in by International Chimney to break down the concrete smokestack. Once down to a safe level, the remainder of the stack was balled down with a wrecking ball attached to a Manitowoc 2250 500-ton crawler crane.
Equipment Used

CAT excavators, including the

Caterpillar

385C UHD with buckets, grapples, shears and magnets

Manitowoc

2250 300-ton lattice boom crawler crane with wrecking ball
Skid steers
Front end loaders
Man lifts
Off-road trucks
Bulldozers
Eagle concrete crusher
Smokestack demolition was one of the most challenging aspects of the job, as it took a lot of time to prepare and coordinate the precise demolition, engineering and hand work needed to go into felling the skywalks that connected the control building with the stack, and the boiler structures.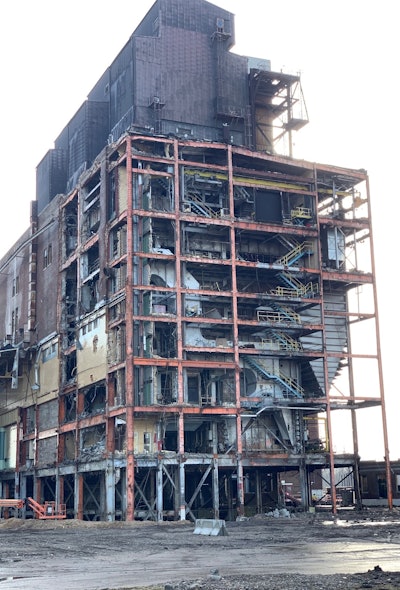 "We do not call our explosive felling technique 'implosions' here at Bierlein," Jeramey Bierlein says. "It took months of preparation before a felling could take place. It takes the utmost coordination with the crew, site superintendent, engineer and safety department to ensure it happens the right way."
Once the fellings were complete, Bierlein then spent a majority of the time processing, sorting and shipping out steel and debris.
Site remediation occurred once all of the steel and building debris was cleaned up. Ninety-five percent of all building materials was able to be recycled, which included 20,000 tons of concrete and over 60,000 tons of masonry materials.
The job was completed in March 2020 and was considered by Bierlein a complete success.