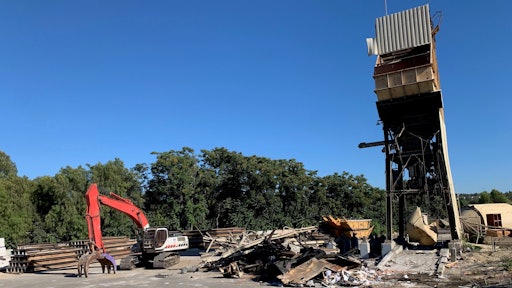 National Demolition Assoc.
Last year, the owner of Trench Shoring Company, Tom Malloy, was looking to expand his company's Moorpark, California, facility and needed scrap removed from the site. The former concrete batch plant, built in the early 1940s, had been one of the primary suppliers of ready-mix concrete to the area. The former plant owner, VMC Concrete, had done some work with National Demolition Association (NDA) member Bob Mutch and suggested Trench Shoring Company connect with him for the job. Mutch co-owns Gopher Specialty Rentals with his wife, Nicole.   
"Originally it was going to be just a scrap project, but it turned into a full recycle project," Mutch says. "We set up a strategy to bring down the conveyor system and all the concrete plant silos and aggregate storage bins. The owner liked the strategy and agreed to it."
Small crew, big capability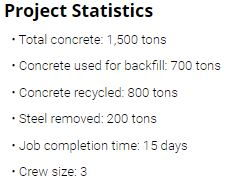 The job started on August 1, 2020, with Mutch and his crew bringing in a Link-Belt 330LX excavator with a LaBounty grapple, a Kobelco SK210 Dynamic Acera excavator with a Genesis GDP650 Demo Pro, a KENT 2,500-foot-pound concrete breaker, a Bobcat 963 skid steer with forks and bucket, a John Deere 755B crawler loader and their service truck with full torch setups.
Mutch keeps his crew small; it's just him, Nicole and another owner/operator welder. "We like to keep our projects lean and mean," he says. "Fewer people to manage and fewer heads to worry about when you're bringing down things. Our safety record is impeccable, and we like keeping it that way."
Mutch and his crew made strategic cuts in the vertical steel, then, using the Link-Belt 330LX excavator with grapple, they pulled the units safely to the ground. According to Mutch, approximately 200 tons of steel went to NDA member Express Metals.
"No explosives were used on this project. It was in the middle of the city, so we were restricted on noise and could only work from 8 a.m. to 4 p.m. Monday through Friday," Mutch says. "The actual demolition of the plant only took around 15 days to complete."
Really built to last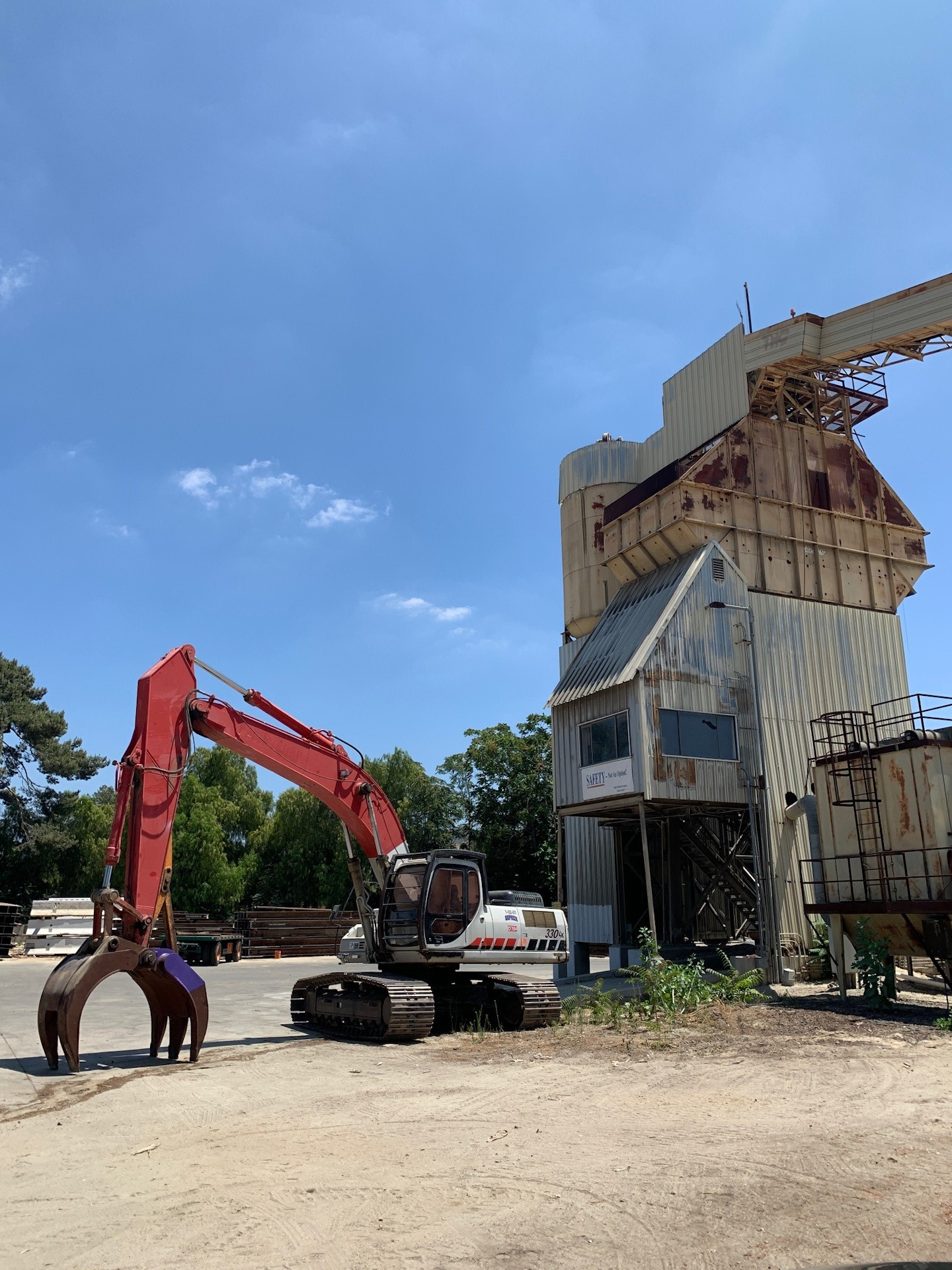 A Link-Belt 330LX excavator with a LaBounty grapple pulled structures safely to the ground after strategic cuts in the vertical steel on this no-explosives demolition.National Demolition Assoc.Although it seemed straightforward initially, when Mutch and his crew got into the concrete portion of the job, he realized it would be harder than he first thought.
"We got into the concrete thinking it would be 6- to 8-in. concrete slabs, and the walls of the pit would be 8-in. concrete with a 12-in. thick bond beam on top," he says. "As we got into it, most of the drive slabs were nothing less than 12- to 18-in. thick. There were areas that were over 3-ft. thick. The conveyor pit started at 12 in. and ended up to be 18-in. thick with No. 8 rebar on 10-in. centers. There were massive amounts of steel in all the concrete. It was a very big surprise to have No. 8 rebar in the walls. We expected some heavy steel in the footing from the plant but nothing like this in the walls of a conveyor pit. It was like demolishing bridge decks. We also believe that all the concrete that was poured, especially in the pit, was 5,000- to 6,000-psi concrete."
Mutch and his crew used the company's Genesis Demo Pro 650 to process through all of the pit walls. After that was completed, they also pulled the Demo Pro 650 off the Kobelco excavator and mounted the stick and KENT concrete breaker to it. Then, they started sizing and processing other concrete including drive slabs and large oversize footings.
After all the concrete was removed and stockpiled, it was processed clean. Backfill material was mixed with 12-in.-minus concrete to backfill the conveyor pit, then approximately 3 ft. of clean fill material was placed and compacted over that with a John Deere 755B crawler loader. The rest of the concrete was loaded with the crawler loader into fellow contractor Urea Trucking's end dump trucks to be recycled. Mutch and his crew used the Bobcat 963 to clean up the remaining site.
"There were approximately 1,500 tons of concrete, about 700 tons of which was rubblized and used for clean backfill on one of the conveyor pits; the other 800 tons were transported to be recycled," Mutch says.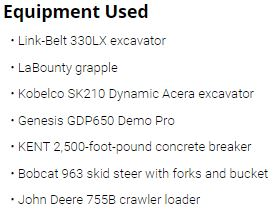 Overall, Mutch considers the job a success. "We were chosen for the job because VMC Concrete knows our quality of work. We have done several critical projects with them, saving them up to a half of a million dollars on one project alone. They also like our outside-the-box approach to things," he says. "Tom Malloy and his staff were phenomenal to work with, and we truly enjoyed working on the project with them. Now he can expand his company and double his yard space."
Alexa Schlosser is the editor-in-chief of the National Demolition Association's DEMOLITION magazine .