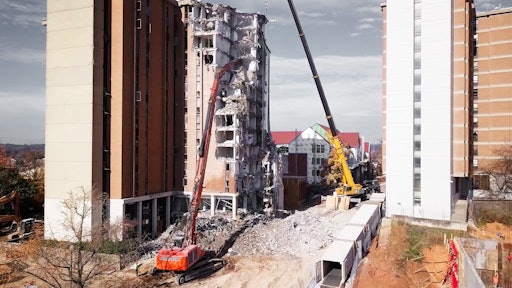 National Demolition Assoc.
The University of Tennessee campus in Knoxville looks dramatically different than it did just a couple years ago. A huge redevelopment plan, which has been estimated to cost more than $1 billion, has been in the works for some time and includes a new student union and science laboratory, an upgraded stadium and a reworking of the university's West Campus, among other developments. 
Project Statistics
Number of stories: 14

Age of building: 53 years

Percentage recycled: 98%

Crew size: ~25

Job duration: 9 months
NDA member Renascent has been involved with the West Campus redevelopment project, having demolished two dorm buildings before being contracted to perform work on a third, Morrill Residence Hall.
"We were very familiar with the university environment," says Andy Roberts, marketing director at Renascent. "The project was a prime bid for an independent contract. We were awarded the contract due to our history with the university, and our package met the cost and budgeting requirements."
Built in 1967, Morrill Hall was a 14-story dorm that was showing all the signs of being over 50 years old. "It was deteriorating externally, and the interior was dated and in need of numerous upgrades and repairs," Roberts says.
There was also a considerable amount of asbestos-containing materials that needed to be removed, which is not uncommon for buildings from that period.
Renascent began work in July 2019 and wrapped up nine months later in April 2020. Every minute of those nine months were needed; because of the location of the site, the company had to take extreme caution in performing its duties.
"This project was very unique," Roberts says. "The site was situated among other buildings, and student traffic was heavy, so we needed to coordinate a safe route for access to other campus facilities."
In addition to the student traffic concerns, an active utility building was just 7 feet away from the demo site. Renascent built a protective wall around and above the utility building to prevent damage, which they also implemented in areas where pedestrian traffic was close to the dorm.
"Due to the project location, we proceeded with an abundance of caution, which meant the project progressed slowly, with safety being our main priority," Roberts says.
Morrill Hall had four wings, with an elevator at its central core. Renascent began the demolition by performing full strip-out and abatement, utilizing a crew of eight to 10 workers as well as five to seven members from the abatement subcontractor.
Once strip-out and abatement was complete, crews demolished the east wing down to the basement. The next step was to demolish the top seven floors of the south wing. From there, the entire west wing was razed, and then finally the north wing. The central core and the remaining south wing were brought down piece by piece as the final stage of the demolition.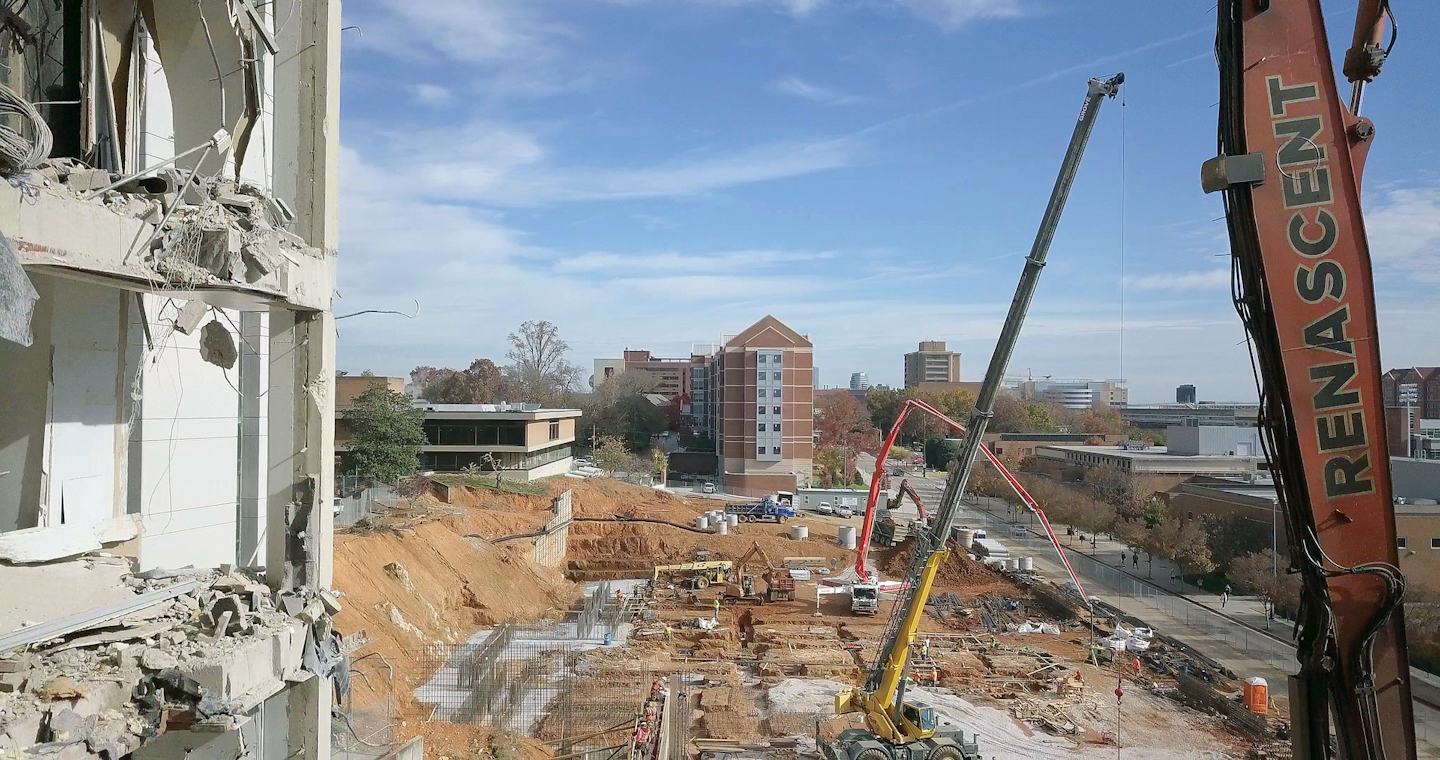 Once strip-out and abatement was complete, Renascent crews demolished the east wing down to the basement.National Demolition Assoc.Throughout the project, the company utilized a 160-foot high reach excavator with a crane and numerous supporting heavy equipment. For the structural demolition process, there was a crew of six to eight, including operators and laborers. 
"One of the biggest challenges was just how tight the project site was," Roberts says. "There was little room to operate and protection of the utility building in close proximity only made the limitations that more significant. Utility relocations posed challenges, as well."
Despite these challenges, Renascent achieved a recycle rate of 98% by weight. All concrete, brick, ferrous and nonferrous metals were recycled. The only materials that were taken to the landfill was furniture, carpet, flooring, ceilings, etc. The university says the former site of Morrill Hall will be turned into a grassy common area.
"The satisfaction of the project owner and customer is always our primary focus," Roberts says. "This is a significant determining factor for the success of a project. Feedback from the university was very positive. It was stated that in over 40 years of working in the industry, they had not worked with a more professional company and expressed a desire that every project would run as smoothly as this one."