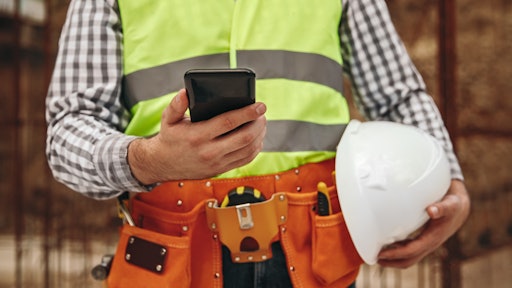 Adobe Stock/kegfire
Research shows that two goals in implementing a workforce management strategy are: One, to lower labor costs and, two, to increase workforce productivity. A mobile workforce platform can help your company achieve both. In an industry where a company's workforce is regularly scattered across jobsites and administrative offices (and now even home offices), one of the greatest challenges construction companies face is keeping everyone on the same page. By integrating a mobile workforce platform with your ERP or accounting systems' planned budget, construction companies can capture live field data for labor and production to propel them beyond live productivity tracking to predicting the productivity pace needed to stay on budget and on schedule. 
Connecting the Field to the Office  
When using traditional analog systems, like paper time cards and forms that require manual scanning and inputting, companies can experience errors and long data lags. Project managers and field supervisors may not have access to the company's accounting system to know how labor hours and quantities completed compare to the budget. Both may have access to labor hours by cost code and quantities completed for productivity, but there are data lags that can be from a week to a month to compare actuals for quantities completed and total reported labor hours to the planned budget. With a mobile workforce platform, you can immediately put this information right in the hands of the people that impact your company's productivity the most and keep the productivity pace in alignment with the budgeted labor hours and production. 
By integrating a mobile workforce platform, both time and task tracking can be automatically synced from one department to another (a direct field-to-office synchronization), allowing payroll employees and project managers alike to see every hour worked—and every task worked on—tracked in real time. With the days of long data lag times, manually entering data from one form or system to another and sifting through physical files gone, employees across departments can access and analyze live field data from their mobile devices. Is the project on track? Did we accomplish enough today? Are we under budget or over? Where do we need to shift resources? These are all vital questions that decision makers across your company can ask and answer in real time when using data collected on a mobile workforce platform. 
Optimize Productivity Across Project Portfolio - Not just by Project 
A mobile workforce platform can break down barriers, facilitate collaboration and give your employees access to the information they need to do their jobs better. By making your processes more efficient and ensuring your company's decision makers and leaders have access to live accurate data, you can maximize your employee's time and optimize your staffing across your entire company and project portfolio. 
Let's say, for example, that a company is working on two projects. Project A is behind schedule and needs X resource, while Project B is running under budget, ahead of its schedule and has X resource. Said company has recently integrated a mobile technology that allows its project managers across multiple job sites to see what's happening across all of the company's projects. This transparency can lead to company-wide collaboration that allows workers and equipment to be shifted quickly to help every jobsite meet its goals. 
Additionally, with access to Project B's live field data, Project A's field supervisor has been given insight into how they can change their strategy and allocate resources to replicate the success of Project B. By eliminating silos of information and instead allowing team members to look at a company's entire portfolio, a mobile workforce platform can enable every member of a team to see which practices are working best and apply those across the company's job sites and enjoy company-wide productivity gains.
Live Productivity 
With people and data often decentralized, it can be a monumental task to get an accurate picture of your labor costs, productivity and project progress. Sure, you likely produce status reports and hold progress meetings that cobble together information from various sources. But, in regard to your projects, can you quickly answer the question: What's the productivity pace on the excavating right now? With a mobile workforce platform capturing live field data for labor hours and production by cost code or task, you can. 
Live field data can tell everyone with access how much progress was made by an employee or crew and even which tasks they each worked on and for how long. With this data, they know how much work has been completed compared to the plan. With this information, your company will know how much is left to remain in budget, so project managers and field supervisors can see if their productivity pace puts them ahead or behind on planned quantities per labor hour. If a project is above pace, then they know they're doing fine. If it's under production, they'll know to pick up the pace, and exactly where additional resources need to be allocated to do that.
Moving Beyond Live Productivity to Predictive Productivity 
Does your company track productivity? Or simply man hours? If you answered yes, you aren't alone. According to a recent HR Tech Survey, 74.9 percent of companies said they didn't use technology to track employee productivity. By skipping productivity tracking, however you are missing out on an opportunity to capture a complete picture of your workforce's impact. Tracking production units right alongside employee hours grants you the ability to see the exact output of an individual and track specifically where crews are ahead or behind on a project. 
Who are your most productive workers? What crews are getting the most work done? How efficiently are they completing their tasks? How does my productivity pace compare to plan? How much more do I need to increase my productivity pace to get that task back on plan? With a mobile workforce platform, you can track not only your employees' clock ins and outs but also the tasks they are working on broken down by cost code. When a worker switches from one task to another, they're prompted to enter their production units completed. With live predictive productivity, field supervisors and everyone in the company knows by cost code, if they are completing more work compared to the plan or less work. For the first time, best in class mobile workforce platforms put live predictive productivity in the hands of the employees that have the most impact on project outcomes - field employees. Field employees and anyone granted access can see on the mobile app or in the office how much more work needs to be completed by cost code to meet the planned productivity and keep the project on schedule and within budget. No more looking backwards and making decisions after-the-fact. With live predictive productivity, field employees and everyone in the company knows by cost code if the project will end on schedule and within budget before the project is completed.  
With a mobile workforce platform that integrates with your ERP's budget metrics, you can track live predictive productivity to keep your budget and processes in sync with what's happening in the field and quickly take corrective action when necessary. Moving your time, asset, tool and equipment tracking online, and your company to a paperless system, can help you achieve a new level of collaboration that positively impacts your business's overall productivity and profitability. 
With 10 years as a construction and real estate entrepreneur and 18 years as a technology executive, Mike Merrill, co-founder of WorkMax by AboutTime Technologies, brings strong leadership and expert knowledge. In addition, he's the host of The Mobile Workforce Podcast where gathers industry experts to inspire change and finds out what it takes to profitability manage mobile workforces. With Mike's depth of knowledge of the construction industry and mobile workforce technology, he's a highly sought-after author by leading industry trade publications and speaker at industry conferences. When he isn't working, Mike is an athletic outdoorsman and is spending time with his wife and four kids.