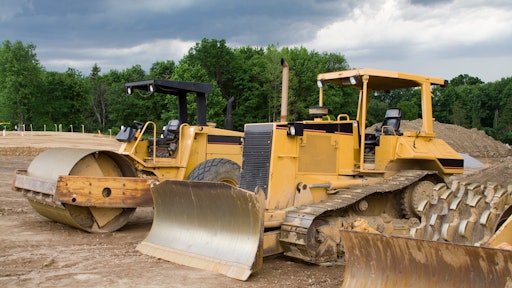 @Denise Kappa - adobe.stock.com
The construction equipment (CE) market has been rapidly evolving since the pandemic ushered in changes to the ways people build and move.
Adding to the complexity that change introduces, the CE market involves many stakeholders, including fleet owners, dealers, rental companies, and original equipment manufacturers (OEMs), who all have unique challenges and priorities. As such, it's highly unlikely for everyone to be solving the same problems and focusing on the same objectives, nonetheless operating from a shared perspective.
Those differences come to light, however, when the construction equipment they all rely on starts having trouble with uptime, performance, or productivity—the three top key performance indicators (KPIs) for any piece of equipment.
Every single stakeholder experiences similar challenges when these KPIs are impacted.
For example, each brand or type of equipment often comes with its own platform that houses telematics data and other vital information for maximizing the uptime and performance of the machines.
But, without a way for equipment stakeholders to easily view information about the equipment and assess where the issue might be occurring, the waterfall effect settles in: dealers, rental companies, and OEMs scramble to solve the problem and struggle to deliver an excellent customer experience, and fleet owners lack the visibility they need to efficiently operate, causing them to potentially seek partnership elsewhere.
The good news lies within the shared long-term goals of these stakeholders. Everyone wants smoother collaboration with their partners, more streamlined functionality within their tech stacks, and future-forward capabilities that allow them to meet and exceed KPIs – all things a co-equipment management approach unlocks.
A Shifting Landscape
First, it's important to look at how the landscape is shifting for each stakeholder within the CE market, as everyone is navigating a certain level of uncertainty that's impacting how they operate today and how they may be operating in years to come.
1.
Dealers
Many dealers are behind the curve when it comes to adopting and leveraging digital resources and offering modern services to their customers that speak to the needs of today. With the CE industry becoming increasingly digital and as customers demand greater productivity and high-quality services, dealers are looking to grow their product support businesses and incorporate value-added services for the customers, which, in tandem, allows them to add new revenue streams and remain competitive.
2.
Rental companies
The construction equipment rental market is on the rise, forecasted to register a 4% CAGR from 2023 to 2032. It's gaining traction as on-site maintenance, repair, and replacements are increasingly included in rental agreements, which reduces costs for renters, and because the cost of purchasing and owning equipment is steadily increasing.
As the rental industry grows, these companies are starting to think beyond solely renting out equipment and looking to provide equipment management services for the machines rented and owned by their customers to create additional revenue opportunities.
3.
OEMs
McKinsey research shows that the CE market is experiencing dramatic shifts post-pandemic, with forecasts indicating that roughly 40 to 45% of the industry's value will eventually be distributed across different players.
In response, OEMs have been focused on expediting digitization, boosting the performance of their dealer network, and adopting demand-forecasting models to better predict market changes and disruptions. As the OEM landscape continues to evolve, many of them are also looking for new dealer and customer-facing solutions that can help them better manage equipment, maximize uptime, and increase profitability.
4.
Fleet owners
Fleet owners today are inundated with a range of equipment types and brands needed to manage active and upcoming jobs, and without the right solution in place to help keep track of everything, the pressure fleet owners feel starts to build up.
They need to ensure equipment stays up and running by proactively addressing equipment needs while also quickly resolving issues found by operators in the field. They need to ensure maintenance intervals are done on time while also ensuring equipment is checked, fueled, and ready to go for the next shift. All this coordination needs to occur at the right time and place to maximize asset utilization and drive revenue.
The Path Forward: Focus on Shared Goals
While each function will inevitably have conflicting priorities, fortunately, these stakeholders have shared goals, as well. Everyone aims for maximum uptime, performance, and production. Everyone wants to streamline workflows and increase visibility into their systems. And everyone seeks to drive revenue and future-proof their operation.
These shared goals create a path forward that can unite and benefit everyone in the CE management industry if they take the right steps to turn goals into results. A co-equipment management approach does just that.
In practice, co-equipment management requires collaboration between dealers, rental companies, OEMs, and fleet owners to address the full lifecycle needs of equipment to maximize uptime, improve performance, and drive production.
Organizations don't have to disrupt their tech stacks or significantly change anything they're currently doing to implement this type of approach, either; instead, they need a modern operating system that can bridge their disparate solutions and create connections across valuable applications, including telematics, business systems, and communications platforms, that haven't existed previously.
While challenges and opportunities across the CE stakeholders will always be unique to them and their business, a co-equipment management approach allows everyone – dealers, rental companies, OEMs, and fleet owners – to more easily manage day-to-day tasks and communicate with each other from a unified interface.
The CE market is already evolving, and as digitization continues to sweep the industry and change "the way things are done,'" those who take action now can ensure their business is poised for long-term success and will be better positioned to embrace the future of construction.