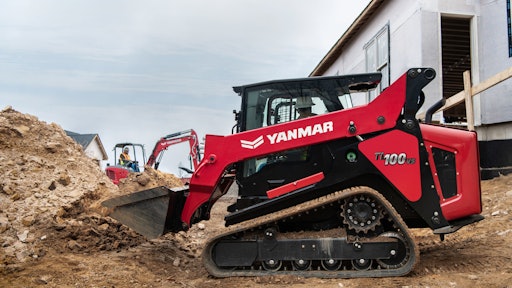 Yanmar Compact Equipment North America
Yanmar Compact Equipment North America recently announced its plans to present some of its new machines in the approaching Equip Exposition.
According to the company:
Yanmar Compact Equipment North America, encompassing the Yanmar Compact Equipment and ASV brands, prepares to showcase new products at the Equip Exposition October 18-20, 2023, in Louisville, Kentucky. Yanmar Compact Equipment will feature its TL100VS at the booth. The machine is one of four new compact track loaders that premiered at CONEXPO 2023. ASV will showcase several Posi-Track loaders. Both brands will be at booth 1230, shared with Yanmar's Rural Lifestyle division, and will also feature equipment for digging, backfilling, and grading in demo area booth 7632D.
"Our indoor and outdoor booths offer just a glimpse of the innovation happening at Yanmar and ASV," said Buck Storlie, Yanmar Compact Equipment North America product manager. "We are excited to showcase machines that bring many of the features customers have been asking for."
Yanmar Compact Equipment will exhibit its TL100VS heavy-duty compact track loader with a 3,780-pound rated operating capacity. Powered by a 103.5 horsepower Yanmar engine, this construction-grade machine is ideal for heavy-duty jobs in the construction, landscaping, and rental industries. Its steel-embedded undercarriage offers maximum durability while its standard torsion axle suspension provides a smooth ride for operator comfort and material retention.
The TL100VS delivers an exceptional operator experience with premium 360-degree visibility and a standard suspended seat for enhanced comfort. It includes optional efficiency-enhancing features such as a work tool positioner, return-to-position technology, self-leveling, ride control, and auto 2-speed capabilities to improve productivity on the jobsite and level out the learning curve for new operators to expedite the training process. The TL100VS also incorporates optional SmartAssist telematics that include features ranging from error detection and notification to real-time operational status updates to theft protection. Backed by a 2-year/2,000-hour warranty, the compact loader's reliability rounds out the performance and quality expected from Yanmar.
Yanmar will exhibit its ViO17-1E and ViO35-6A mini excavators, the V4-7 wheel loader, and the TL100VS compact track loader in the indoor booth and the ViO17-1E and SV40 mini excavators in the demo area. ASV will showcase its RT-135 Forestry in the indoor booth and its RT-40 Posi-Track loader and MAX-Series RT-75 loader in the demo area.
Companies in this article