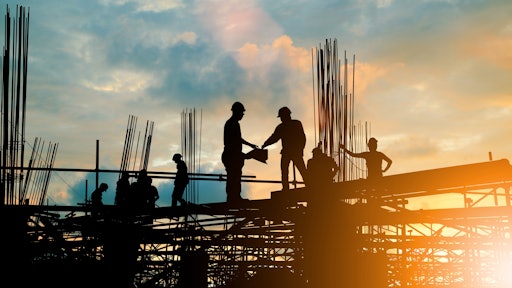 @Yuttana Studio - adobe.stock.com
Several economic indicator reports relevant to the construction industry were released today, helping to paint a picture of the outlook moving into the fourth quarter of 2023.
While some industries shed jobs last month, construction jobs and pay grew, according to the latest analysis by ADP. Other economic indicators remained steady or improved.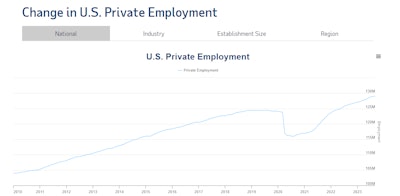 While some industries shed jobs in September, leading to an overall stagnancy in national job numbers, construction remained buoyant with an increase in 16,000 workers. Construction pay grew as well, at 6% year-over-year. These job numbers were released Oct. 4 as part of ADP's monthly job analysis.
"We are seeing a steepening decline in jobs this month," said Nela Richardson, chief economist ADP, said of the overall report. "Additionally, we are seeing a steady decline in wages in the past 12 months."
The biggest losses were in the professional/business services (-32,000), trade/transportation/utilities (-13,000) and manufacturing (-12,000) industries. Private sector employment increased by 89,000 jobs in September and annual pay was up 5.9 percent year-over-year, according to the September ADP National Employment Report produced by the ADP Research Institute in collaboration with the Stanford Digital Economy Lab.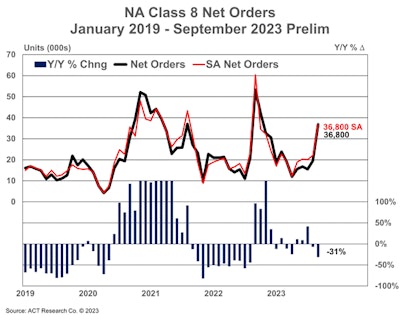 Meanwhile, ACT Research today reported that Class 8 trucks orders were up 67% month over month, the strongest month of the year so far.
"Between reports of falling carrier income and margins, still sloshy load-to-truck ratios, weak spot rates reported by DAT, and a sense over the past six weeks or so that the U.S. economy's year-to-date outperformance was starting to lose some momentum, we were unsure how the market would respond when the 2024 orderboards officially opened," said Kenny Vieth, ACT's president and senior analyst. "One thing we did know was that nearly all the August-ending Class 8 backlog was scheduled for build in 2023, so strong orders are imperative for the industry to maintain current strong production rates very far into 2024."
ACT's "State of the Industry: Classes 5-8 Vehicles" report provides a monthly look at the current production, sales, and general state of the on-road heavy and medium duty commercial vehicle markets in North America.
"While it is too early to infer much from September orders, data from the OEMs confirm the 'season' started on the right foot," Vieth said.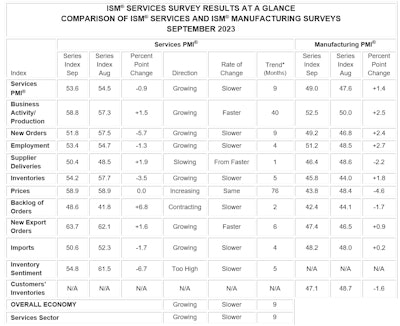 The Institute for Supply Management (ISM) also released its monthly Report on Business on Oct. 4 based on the Purchasing Managers' Index (PMI) report, which includes a set of economic indicators based on surveys of private sector companies, including some within the construction industry.
The PMI for September registered at 53.6 percent, which indicates growth. However, the number is 0.9 percentage points lower than August's reading of 54.5 percent.
"The composite index indicated growth in September for the ninth consecutive month after a reading of 49.2 percent in December 2022, which was the first contraction since June 2020 (45.4 percent)," said Anthony Nieves, chair of the ISM Services Business Survey Committee.
He reported that numbers remain optimistic despite the slow down.
"The index is in expansion (or "slowing") territory for the first time since November 2022, when it registered 53.8 percent," Nieves said. "Still, the average reading of 48.1 percent in the last seven months (with a low of 45.8 percent in March) reflects the fastest supplier delivery performance since June 2009, when the index registered 46 percent."
One construction professional reported in their survey, ""Conditions remain favorable for mechanical contractors. New construction projects continue to launch. We are still seeing opportunities for cost reductions across many commodities. Inventory levels on finished goods remain strong."
According to the index, the 13 services industries reporting growth in September, listed in order, are: real estate, rental and leasing; retail trade; mining; other services; utilities; health care and social assistance; finance and insurance; construction; professional, scientific and technical services; public administration; information; transportation and warehousing; and educational services. the five industries reporting a decrease in the month of September are: agriculture, forestry, fishing and hunting; arts, entertainment and recreation; accommodation and food services; management of companies and support services; and wholesale trade.
Companies in this article