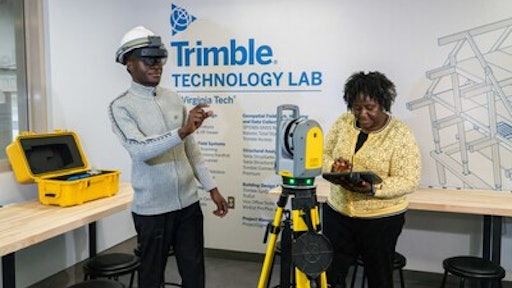 Trimble
Trimble has recently announced the opening of a Trimble Lab at Virginia Tech. This lab will help the students studying things in the construction field better understand and experience what they are learning about.
According to the press release:
With a shared focus on educating the workforce of tomorrow, Virginia Tech and Trimble opened a Trimble Technology Lab at Virginia Tech's Blacksburg campus. The multidisciplinary lab will bring technology to Virginia Tech's students in architecture, building construction, and construction engineering. The lab is jointly sponsored by the university's School of Architecture and Myers-Lawson School of Construction.
"Through partnering with Trimble, we will be able to provide students with cutting-edge tools and training to ensure that they graduate at the technological forefront of their respective creative disciplines," said Lu Liu, dean of the College of Architecture, Arts, and Design. "While our faculty are regular users of Trimble products already, the company's support of our college will accelerate faculty research and creative engagement in industry through its robust support network and professional development opportunities."
Located in Burchard Hall, the new lab comes after years of collaboration between Virginia Tech and Trimble in various areas of research. Most recently, associate professor Abiola Akanmu of the Myers-Lawson School of Construction published research on the utilization of mixed reality technologies for construction workers. Using the Trimble XR10 HoloLens hardhat, her research explores the potential for training and upskilling workers in mixed-reality environments to lead to safer and smarter work on construction sites.
"Over the years one of the challenges we have had is access to the state-of-the-art software and hardware that are used by industry practitioners," said Akanmu. "Partnering with Trimble helps us prepare students to excel and innovate in the construction industry."
"Virginia Tech faculty have been conducting innovative research for several years using Trimble technologies, so this is an excellent university for our newest Trimble Technology Lab," said Amy Northcutt, director of education and outreach at Trimble. "Working with both the School of Architecture and the Myers-Lawson School of Construction will increase the number of students learning about Trimble technology and preparing to make a difference in the industries we serve."
The lab includes a broad range of Trimble's geospatial and construction solutions such as the Trimble XR10 HoloLens hardhat, robotic total stations, 3D scanners, and GNSS systems. Advanced software solutions include RealWorks point cloud processing and analysis software, Trimble Business Center Infrastructure Construction edition, Tekla Structures, Tekla Structural Designer, Trimble Connect collaboration software, FieldLink Office, SysQue MEP design software, WinEst cost estimation software, Sefaira environmental design software, and the company's popular 3D modeling software, SketchUp, among other products.