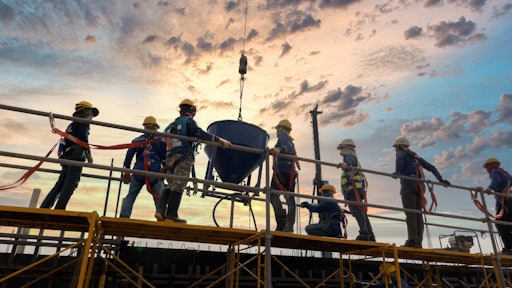 @bannafarsai - adobe.stock.com
According to research, interruptions at work can cost your business up to six hours of productivity a day. The average worker gets distracted every three minutes and five seconds on average, and it takes them about 23 minutes and 15 seconds to get back on track.
Distractions at the jobsite can take various forms. These include meetings, bad schedules, and extra time handling repetitive administrative work that can be automated or left to a dedicated employee at your office.
Therefore, improving job efficiency on jobsites involves improving communication, leveraging technology and automation, and matching tasks to employee skill sets, among other effective strategies.
Here's a look into how you can improve your crew's efficiency at the jobsite and make them more productive.
What is Employee Efficiency?
Employee efficiency is the ability of your crew to produce the desired results utilizing the least amount of resources. This includes time, equipment, and processes.
For instance, your crew can be efficient if their schedule and route planning allow them to attend to a significant number of work orders rather than working a few due to poor route planning. Or, using field service scheduling software can lead your employees to complete more service requests, improving customer service and saving your business time and money.
Why is Employee Efficiency Important?
High efficiency at the jobsite ensures your business can achieve more with fewer resources and more speed. You're able to deliver services and achieve organizational goals in the right way, contributing to your business's success.
For instance, improving inventory management makes your crew more efficient since they don't have to wait for equipment or carry an oversupply of equipment to jobsites, which can be wasteful, tiring, and time-consuming.
Better utilization of resources gives your business more to invest in customer service and its crew. Moreover, employees enjoy better pay, a better work environment, and improved morale.
Your crew can also meet more deadlines, while still delivering to the required quality standards, improving your business's bottom line and customer satisfaction.
Here are seven effective strategies you can use to improve your crew's efficiency at the jobsite:
1. Delegate Work Appropriately
Having you or your crew do most of the heavy lifting is not beneficial to service delivery, quality, and your service business's bottom line. Assigning most of the work to yourself or one person leads to inefficiency, wasting valuable time that could've been spent handling other projects and attending to multiple service requests.
Therefore, you should be more willing to delegate work, assigning qualified employees appropriate responsibilities to ensure everyone is contributing equally to the available tasks.
Besides improving efficiency, delegating work also allows your crew to gain new skills and leadership experience, which will eventually benefit your company.
2. Match Tasks to Employee Skills
Delegating work and assigning responsibilities to employees should not be done without careful consideration of the employee's skillset and experience. Putting the wrong person in a given role can contribute to inefficiency since they can't deliver the required work to the required standard in time.
For instance, extroverted and creative crew members are not fit for mundane and unstimulating work. They need to handle more challenging service requests, which they can complete faster and to a greater quality.
Matching tasks to employee skills also promotes better customer satisfaction since jobs are completed faster and to excellent standards.
3. Promote Effective Communication
Good workplace efficiency relies on effective communication. Communication in a home service business is often complex, involving the crew talking to the customer and the in-office team to handle various tasks and complete service requests as per the order.
To improve crew efficiency, you should provide various communication channels between the crew, the in-office team, and the customer, including:
Phone calls
In-person
Email
Text messaging
Social media
Messaging apps
Field service software
You should also promote healthy internal communication between your crew, in-office team, and suppliers or vendors to ensure a seamless flow of inventory that will allow you to access tools and equipment and complete work orders faster.
4. Create an Ideal Work Environment
A positive work environment significantly boosts workplace efficiency. Positive work environments help boost morale, making your crew and in-office team feel motivated and productive.
For your in-office team, you can invest in a brightly lit and spacious space with minimal distractions to improve their throughput. Consequently, your customers will enjoy better service delivery, and communication will improve in the workplace.
Your crew should also get all the support they need, with great bonus packages and insurance policies to make them feel protected and secure about their health while working in the field.
5. Have Goals and Expectations
Your crew can achieve great work efficiency if they have clear goals and expectations for their work. You should develop SMART goals that break down what each crew member should achieve, with measurable objectives and a reasonable timeframe.
You should communicate these goals and expectations clearly, with each crew member and employee aware of their expected performance, behavior, and efficiency.
For instance, your crew should know how long a service request should take from the customer making the request to completion and how they should report inventory levels as stock levels reduce to a given threshold for the tools and equipment they need.
6. Automate and Use Technology Where Possible
Modern field service businesses can make use of several technology and automation tools to make their job easier and more efficient. Field service management software and other automation tools help handle tasks such as scheduling, invoice payments and processing, and work order management to ensure your crew is efficient and your business can offer exemplary services to its customers.
Technology and automation tools also help you gather and analyze important client and employee data that can help you assess your business's performance and note areas your crew can improve for better service delivery.
For instance, it can suggest better routes and schedules for your crew and help assign the best crew member to a job based on their skills, experience, and other unique data about them.
Software tools can also help you predict inventory levels, ensuring you have enough supply for peak and off-peak seasons to fulfill service requests.
7. Use the Right Tools to Make Your Business More Efficient
Improving efficiency in your home service business comes with several benefits for the customer, your business's reputation, and its bottom line. If you invest in the right tools, you can have better insight into your workforce's performance and find ways to improve their efficiency and serve more satisfied customers.