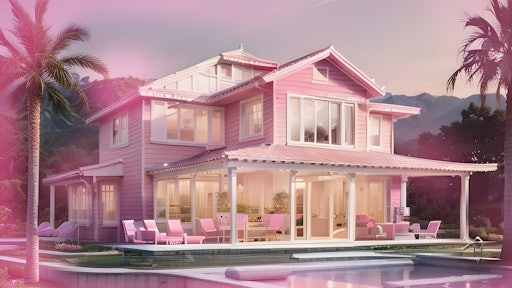 Vantem
The "Barbie" movie has taken the world by storm, earning more than $1.38 billion worldwide to become the highest-grossing film in Warner Brothers' 100-year history. It's obvious that Barbie has a storied history, and not just in film. If you think about it, the Barbie Dreamhouse was effectively the first mass-produced modular home. These homes were built off-site, purchased and brought to a site for use. Although it was made of cardboard when it first hit the shelves in the early 60's, we have watched the Dreamhouse transform through the decades going from a single-room cardboard Dreamhouse, to the Barbie Dreamhouse Cottage, to the Deluxe Barbie Dreamhouse, to what we see in the stores today: The Barbie Dreamhouse Mega playset. Although, some may not know that the Barbie Dreamhouse has evolved be even bigger, now even taking the form of a real, livable home as an Airbnb in Malibu.
But what if the Barbie Dreamhouse had remained faithful to its original modular design? Further, what if it adapted to the needs of today's economic and environmental impacts, making it climate resistant, energy efficient and cost-effective? Now that's what I call a dream home! Let's break it down:
Barbie Conquers Climate
According to a NOAA report, the U.S. has been struck with a record-breaking 23 separate weather and climate disasters—each with losses exceeding $1 billion—between January and August 2023. As the Dreamhouse famously resides in Malibu, we have to take into account California as a prime location for earthquakes, wildfires, and most recently even hurricanes.
Considering this, the "new" Dreamhouse would need to be fire resistant, be able to withstand seismic activity and survive high winds and rain. The Dreamhouse would need to be built with large structural panels that are made from refractory materials, like ceramic, to resist higher temperatures and protect the structure from fire. These panels would also need to be incredibly strong so they can withstand high winds and can handle earthquakes better than a regular home. Considering the Dreamhouse panels are structural, there would be no posts and beams which is where structures normally fail in earthquakes. With its climate-resistant design, the Dreamhouse would effectively be a safe haven for Barbie and all of her friends in the case of a natural disaster.
Barbie Goes Green
As we know, Malibu often experiences higher temperatures and other extremes than other parts of the country are not as accustomed to. The Dreamhouse would need to be able to combat the heat by being air-tight and thermally efficient, keeping the house cool day and night. To do this, the Dreamhouse's structure would need to be able to create a thermal envelope with insulating panels to prevent overuse and overspend on cooling. By preventing heat from escaping during the winter and blocking out excessive warmth in the summer, the Dreamhouse minimizes the need for heating and cooling, thus reducing energy consumption.
If Barbie wants to go off the grid, it would be as simple as adding solar panels. This initiative, called Net-Zero, allows the Dreamhouse to produce as much energy on an annual basis as it consumes. Whether it's lighting up the spacious rooms, running the appliances or keeping the climate control systems in check, the Barbie Dreamhouse could do it all while leaving virtually no carbon footprint.
Barbie's Budget-Friendly Home
According to a 2022 report from doxoINSIGHTS, California is the second most expensive state for household bills. Going green and building an energy-efficient Dreamhouse is a great first step for Barbie to cut down those utility costs. Modular homes also simplify construction which reduces the cost of building the Dreamhouse. In addition, with a simple delivery of the Dreamhouse, construction times would decrease. With modular construction, the Dreamhouse's various sections and components could be prefabricated in a factory environment, ensuring precision and quality control. This method would not only streamline the construction process but also reduce labor and material costs.
Homes like the ones described above are becoming more popular every day and you don't have to be Barbie or Ken to achieve a Dreamhouse of your own. Whether a prospective homeowner, builder or Barbie fan, building a modular home that is climate resistant, energy efficient and cost-effective is more attainable than you think – almost as simple as building a cardboard Dreamhouse yourself.