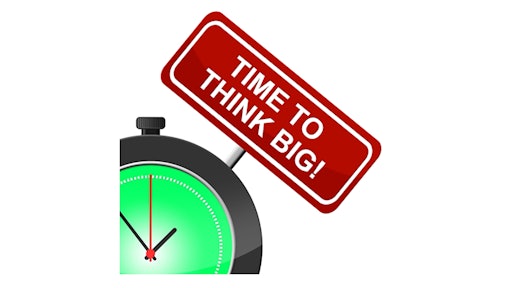 freedigitalphotos.net
November is National Entrepreneurship Month. An entrepreneur is defined as "one who organizes and assumes the risk of a business or enterprise." We often think of entrepreneurs as people who start a new business. The construction industry is no stranger to these types of entrepreneurs. So many construction companies are started by one or two people with skill and a dream.
But if you consider that definition from Merriam-Webster's Desk Dictionary, an entrepreneur doesn't have to be limited to someone who starts a company from scratch. Yes, there's risk in starting a new business. But there is also risk in expanding into new areas of business or even new technologies. That means even seasoned business owners or new owners of existing construction companies can flex a little entrepreneurship at any time.
There is no shortage of tips and advice available for entrepreneurs.
Work smart, not hard
Take risks
Have a vision
Challenge yourself
Don't take shortcuts
Research and understand your market
Utilize your team
Take time to focus on the long-term goals
Network
The list goes on.
Considering the continuing emergence of new technologies in the construction industry, and the slow adoption the industry seems to be known for, there's plenty of entrepreneurial opportunities in this industry. So this month, get out your entrepreneurial spirit and consider what new frontiers you can take your business to.
This National Entrepreneurship month I challenge construction business owners to find at least one way you can bring out your internal entrepreneur. It could be big, like trying a new major technology or expanding into a new area of business. Or it could be smaller, like revamping a company process or focus. But let's face it, even those actions aren't "small."
Maybe it's time to take a risk. The construction industry is changing. The pipeline of skilled trades workers is shrinking. Business owners have to find new ways to attract workers and sometimes new ways of doing business. Now as the busy summer season winds down is the perfect opportunity to take stock of where you are, what you need, where you want to go, and tap into that entrepreneurial spirit to help get you where you want to go.
Of course, if you are going to take a risk and try something new, it's best to be as educated and prepared as you can. Here are some additional resources to help along the way.