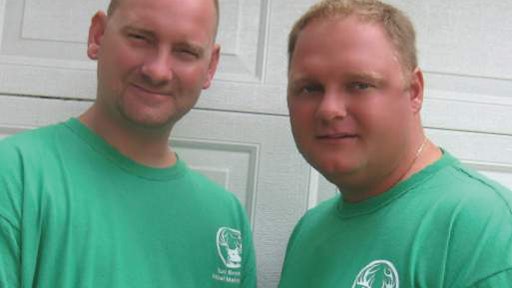 Name: Chad Buck
Company: Buck Brothers Asphalt Paving & Maintenance LLC
Position: Owner
Location: Toledo, OH
Buck Brothers Asphalt Paving & Maintenance's Facebook page and website.
Tell us about your company. How did you come to be in the pavement maintenance industry? How long have you been in business? What services do you offer?
The original Buck Asphalt Pavers Inc. was started in 1954 by my Great Grandfather and my Grandfather. I started in the business when I was around 13 years old working weekends and doing odd jobs around the shop. I remember my first sealing job was an American Legion post, and we sealed the parking lot by hand out of buckets. For the next week after, I couldn't move my neck side to side because I was tuff and carried two buckets at a time pulling the muscles down both sides of my neck. Back then the company did mostly paving and sealed on occasion. Today we offer much more, we service anything that has to do with residential and commercial asphalt surfaces.
What is the key to your company's success? What sets you apart from your competitors? What do you do best?
Throughout the years the company has had many ups and downs. Before my grandfather's departure he spent hours with me in conversation about the company's past and all the problems with the family. He had many brothers and sisters whose children worked for the company including his own 4 boys and it became a struggle. My grandfather also spoke of the struggles with hard economic times and stated that the oil embargo in the early 1980's nearly put them out of business. The company Buck Brothers was re-established in 1997 by my brother Brad and I. We have faced many struggles, and if I would have listened to my grandfather throughout those long conversations we could have avoided a lot of the complications we have faced. Now, we are older the egos are gone and we are humble. The one thing that I did take in from our conversations, and I believe is the key to our success, is "Remember to always do quality work be honest and never try to get rich off one job."
What make(s) and model(s) equipment do you use? What are the brands of your key products?
We take great pride in our equipment and believe it is a reflection of our work. Although we try to buy quality used equipment it often makes sense to buy something new such as our recent purchase of a new paver. In our area we can rent mostly anything we need if a piece of equipment brakes down, but unfortunately a paver is not one of them. We have purchased used pavers in the past and have not had good luck so this time we decided to go new.
What tips or suggestions do you have to help other contractors improve their business?
Speaking for myself, and I'm sure many others, there are many challenges in the paving industry such as dealing with fly by night companies and guys who think they are going to start a paving business and get rich quick. We had a situation last summer were a property management company wanted to award us a large project and wanted us start the following week. They wanted to only give us 13 days to complete the project or they were going to award the contract to an out of town company. I researched the out of town company and couldn't find anything on them. They weren't a registered business, and I passed this information along to the property management company and was awarded the project.
Do you have any growth plans you are willing to share for your company?
As contractors we all fall into the trap of if I only had that one more piece of equipment we could take on more work. It keeps going on and on and on, before you know it your equipment poor. It has happened to us and that's why we try to pay for every piece of equipment we buy instead of going to the bank, or if we do use the bank it's on a used piece of equipment. Why do I need to go to the local dealer and pay $60,000 for a truck when I can buy the same truck with 50,000 miles on it 3 years old for $25,000? It's going to get dirty and does the same job. I can pay it off in a shorter period of time, and when it sits all winter carry only fire and theft insurance which is much less than full coverage. I remember 10 years ago I would pay a huge insurance premium, walk outside and look at all the equipment sitting with snow on it and think this doesn't make any sense. Owning your equipment also gives you the advantage in the sense that if the economy tanks, which it has, you're not sitting there dead in the water owing the bank for everything that's sitting in your yard and before you know it watching it all go out the gates on lowboys because the bank just called your note. If you are new to the business or are growing, take it slow and remember it will all come in time.
How long have you had a Facebook page? How do you use it? What motivated you to create one?
Marketing techniques have really changed in the past 20 years. I remember going to seminars at the NPE on how to market your company in the phonebook. Now it's websites, Facebook, Twitter and so many others. For us these new marketing techniques have grown our business considerably. We are living such fast paced lives that it is much easier for our customers to stay connected and message us on Facebook if they want something done — whether it be at 1:00 a.m. or 1:00 p.m. I often look at the time of the request and it has been a way for our customers to stay connected to us 24hrs a day 365 days per year.
What do you enjoy most about your job?
The asphalt paving and maintenance business is a fun and rewarding business if ran properly, but it has its challenges. I believe what I have learned in the past 20 years could not have been learned in a collage class room. As my grandfather always told me, you get your A-B degree in a class room and you get your C-Z degree through experience.