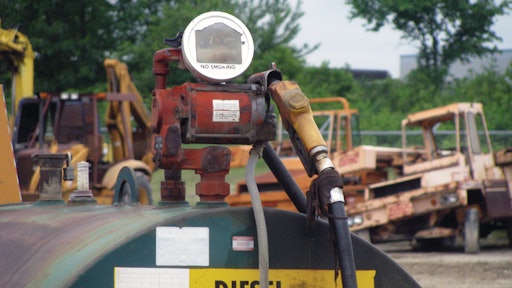 Rising U.S. crude oil consumption, ongoing instability in oil-rich countries and growing global demand in developing nations pretty much guarantee diesel fuel prices will spike just in time for your construction season to hit full swing. As of mid-April, the U.S. Energy Administration (www.eia.gov) was forecasting an average price of $4.21/gal., an increase of $.27 from last summer.
Unfortunately, such a rise in fuel pricing is nothing new; diesel fuel has climbed $1.75/gal. in just the past three years. Since it seems unlikely we'll see any changes in legislative policy or in the availability of fuel sources that will have a meaningful impact on prices anytime soon, fuel costs appear destined to make up an increasingly larger percentage of your company's costs of operation for the foreseeable future.
Consequently, it's on your shoulders to implement changes in your organization to help reduce that percentage. Following are some areas to consider:
Properly trained operators, and drivers, tend to be more fuel efficient. A lot of changes have taken place in the past decade in terms of machine functionality. Operators who understand how to take advantage of features such as economy modes will be able to lower fuel use. Make sure operators know when and how to apply these features and/or adjust settings to the application. They should also know how to position a machine for optimal productivity with minimal movement and/or travel.
Likewise, ensure all employees using company vehicles understand the necessity to drive with fuel efficiency in mind. Tromping on the accelerator, excessive engine idling or revving, hard braking and other "bad habits" will quickly drain a fuel tank.
If excess fuel consumption is a consistent problem, consider implementing equipment tracking systems to monitor both vehicle or equipment fuel efficiency and driver/operator performance.
Design routes to reduce travel time. This is important whether on a jobsite or on the streets. Map out the logistics of transport, loading and haul routes to reduce travel/cycle times, as well as avoid unnecessary uphill travel and/or poor underfoot conditions that may place added strain on engines. For city driving, map out routes to reduce mileage and time spent in traffic.
If you have a number of fleet vehicles in regular service, consider utilizing a GPS-based logistics program to map and track vehicle movement. GPS units in the vehicles can also enable drivers to find destinations and/or alternate routes more quickly.
Fill vehicles and trailers to capacity. Designate your most fuel-efficient vehicle(s) for longer travel distances and strongly encourage (or mandate) carpooling to jobsites where possible. Use available space in truckbeds to transport tools, equipment or materials to the site.
Utilize the full payload capacity of trailers heading to your jobsites. Determine if smaller equipment or lighter weight materials can be added without exceeding capacity limits. Avoid letting partially empty trailers leave your yard whenever possible.
Strictly adhere to PM schedules. Preventive maintenance is one of the first things that can start to slide as project schedules heat up. Yet, plugged filters and aging fluids place added strain on engines and other components. More power, and fuel, will be required to achieve the same level of performance. By maintaining regular service intervals, you will keep equipment working at optimal fuel efficiency, and help keep fuel costs from creeping upward.
For more tips on managing fuel costs, visit the Business Management and Fleet Management sections of ForConstructionPros.com.