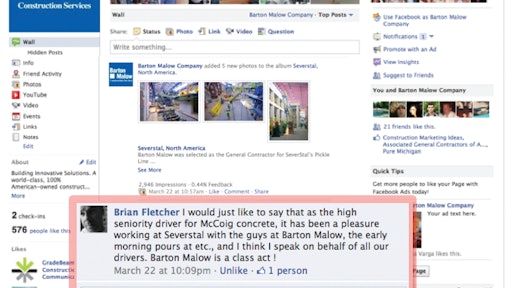 Social media provides opportunities for companies to share their products and services like never before. The challenge that many construction industry firms have is how to leverage social media to benefit their businesses. While marketers and communication specialists are quick to jump on the social media bandwagon, weary construction company leaders question its effectiveness within an industry known to lag in technology.
To illustrate just how powerful social media can be for a construction industry firm, let's look at a real-life example of a coordinated social media effort and the benefits realized through this team effort.
Find the opportunity
Just as your business makes decisions that affect your firm, choosing the right message and platforms to share that message are just as important. At Barton Malow Company, an opportunity arose with the construction of Severstal's Pickle Line Tandem Cold Mill (PLTCM) and Hot Dip Coating Line (HDCL) Galv Line in Dearborn, Mich. These two projects totaled over $200 million in construction and also featured many of Barton Malow's capabilities including concrete, equipment installation and building information modeling (BIM) services.
The scale and relevance of the Severstal project provided Barton Malow with many possibilities to share information on the company's various social media platforms. It also highlighted the resurgence of the manufacturing industry in Michigan after the economic meltdown. With the owner's permission, Barton Malow team members began to develop a plan to fully leverage its social media presence and share the story of building for one of the largest steel manufacturers in the world.
Set goals
To determine what needs to be talked about online, it's important to set goals of what needs to be accomplished and how to meet those goals. In the case of Severstal, Barton Malow wanted to share the incredible amount of work and manpower that goes into building the most state-of-the-art steel mill in the world. This included showcasing the planning and coordination effort as well as the installation of more than 1,300 pieces of equipment into the processing facility, all of which took place in an extremely tight timeframe.
Through effective teaming with the owner and other parties involved, Barton Malow also wanted to share the benefit of working together early to realize savings and schedule enhancements that benefit a well-ran construction project. All of this could be accomplished via social media platforms and online engagement if done correctly. The Barton Malow team set these goals to determine its success:
Build a trust-based online relationship with Severstal where both firms would cross-promote each other throughout the project's progressEffectively share the project's progress to the industry and Barton Malow's online followingRecognize the comeback of the manufacturing industry in MichiganRealize a publishing opportunity about Barton Malow's work at Severstal
Build a plan
Upon outlining the goals for covering Severstal through Barton Malow's social media platforms, Barton Malow team members worked closely to build a comprehensive communications plan. The project's schedule with major milestones were shared to determine opportunities for photography, filming video and developing content to share on various social media platforms.
Barton Malow had established its social media presence in 2008 with platforms that included Facebook, Flickr, YouTube and LinkedIn. Given the complexity and scale of Severstal, Barton Malow team members developed content for each of the platforms as well as the company's external newsletter and website.
A plan in action
The Barton Malow team posted regularly to social media sites on happenings throughout the project's progress. This included the MIOSHA partnership signing, significant equipment installation highlights, phased completion celebrations and of course the grand opening. Photographs were taken throughout the construction progress to highlight these milestones on Facebook and Twitter. Professional photographers took some of the photos while others were taken by onsite construction personnel; however, the goal was to make sure all photography was posted in a timely manner through the proper social media channels.
Barton Malow also filmed video to demonstrate the complexity of the project through interviews of project personnel as well as imagery of construction being put into place. These videos focused on the BIM effort, challenges of the difficult job and benefits to the owner realized through Barton Malow's capabilities. All videos were uploaded to Barton Malow's YouTube channel and tagged with appropriate construction and project related terms for easy searching abilities. View the video here: http://www.youtube.com/watch?v=hw50X9hkd5w
Barton Malow team members also wrote various pieces about aspects of the Severstal project including a case study in collaboration with AutoDesk on the BIM effort and a feature article for the company's newsletter. The project held a prominent position on the company's website and was also featured on company personnel's individual LinkedIn profiles.
There was a great deal of content generated about the Severstal project and much of it was re-used for various sales and marketing initiatives for other potential projects.
See the results
The social media efforts on the Severstal project met all of Barton Malow's goals and also achieved some unexpected positive results. Barton Malow built a strong relationship with Severstal both online and in person and was able to win various construction awards including the Associated General Contractor's (AGC) Build Michigan Award. In addition, a number of online cross-promotion activities were realized through Twitter and Facebook.
Barton Malow Company promoted the Severstal project so well that Google ranked Barton Malow in its results when searching the word "Severstal". In addition to this unplanned positive result, Facebook postings about the project provided a feedback mechanism for project partners and trades personnel to share their enthusiasm about this project. Barton Malow's publication goals were also achieved through stories in several construction industry publications.
The Severstal example at Barton Malow illustrates the power of social media when planned and executed properly. Every firm should set measurable goals when developing marketing initiatives and social media is no exception.