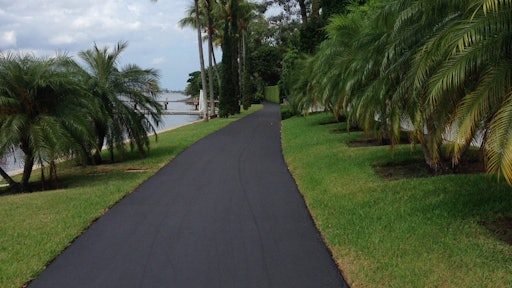 Coming from the hotel industry Janice Potter approached the paving & pavement maintenance business from a standpoint not often found in the industry: She followed the adage that "the customer is always right." And while she admits that's not always easy, it's an approach that has defined her corporate philosophy, guided her approach to the market, and enabled her company to prosper serving a high-end client niche that can be especially demanding.
Potter, president and owner-operator of The Paving Lady, Boynton Beach, FL, started her company almost 30 years ago and today the commercial contractor generates 70% of sales from private work and 30% municipal work. With 30 employees and a six-person management staff The Paving Lady runs four uniformed crews a day -- usually one paving crew and three crews doing some combination of surface preparation, sealcoating and patching –  from their own yard and building they built 10 years ago. The Paving Lady can work throughout most of Florida but centers its efforts from Key West north to Port St. Lucie.
"I look at every job as a reference and the mindset I try to give my employees as they start a new job is 'this is a reference for your next job'," Potter says. "So we're a little more careful around curbs, a little more courteous to the homeowners and businesspeople and their customers, and it just makes a difference if you're looking at a client as more of a reference than as a sale. If you look at clients as a reference then you treat them differently."
HIGH-END CLIENTS
One result of The Paving Lady's "customer is right" policy is the contractor's focus on high-end clients, like those on a Palm Beach Island job they recently completed. Potter says she didn't intentionally decide to pursue high-end clients – instead that niche has evolved for her over the years as The Paving Lady's reputation developed.
"High-end always takes a lot more customer service and job quality, and attention to detail has to be very high," she says. "Word got around that we did a good job and were easy to work with regardless of the needs of the job."
She says not only are her crews presentable and in uniform but employees undergo a 50-year background check including fingerprinting, drug testing and certification by Homeland Security (because they also work on airports). "That right there gives us a lot of credibility and gets us into places like schools and high-end communities who don't want to have to worry about the people they hire. We're not just hiring the next warm body," she says.
But because of the effort she puts in to satisfy customers she is never the low-price contractor when bids are compared. "I don't charge a premium price, either, but it pays off because people in the communities we work for own their own business, they work on boards, they own other properties and so word of mouth is extremely important. The payoff is the people I come into contact with on those types of projects. The payoff is in the reference.
In fact she says she had the opportunity to bid on Palm Beach Island because The Paving Lady had worked with a couple of developers who happened to live in the community and that community values privacy and safety. "Because they knew how we worked the developers suggested I pursue work there," she says.
She says that in many case she working alongside other contractors who also are held to a higher standard, and when those contractors see how The Paving Lady operates they provide her with referrals too. "I get calls where they say 'You're exceeding the standards and doing this type of work on job X, would you consider coming over here to bid this job?'
PALM BEACH ISLAND
One of the high-end jobs The Paving Lady recently completed was on Palm Beach Island, a true island accessible only by three bridges. With an offseason population of 10,000 (when sealcoating is done), Palm Beach Island is 16 miles long and one-third of that is woodland of which residents are very protective. The Paving Lady has worked on Palm Beach Island for a dozen years, on jobs from plush private estates to local museums, municipal facilities and even the Royal Palm Plaza shopping center. So Potter understands the unusual demands of the Island jobs.
"They're detail -oriented and I understand why they're detail-oriented," she says. "When they write a bid they want to make sure that whatever you do is not exposed to foot traffic – not only for people but for creatures, too, because there are turtles, iguanas, ducks and foxes out there. If we have to put barrier fencing up then we do it and remove it then next morning before anyone gets out of bed. They are particular in their bids and their expectations and that's just part of the job."
This job involved sealcoating parking lots for city employees, local fire and police departments, the Henry Flagler Museum, Palm Beach Golf Course, and Yacht Basin, but the most complicated of work was a 3 ½-mile long bike and pedestrian path called the Lake Trail. Ranging from 5-8 ft. wide, the Lake Trail was adjacent to a sea wall on the intercostal side and lush landscaped hedges as high as 25 feet to protect the privacy of the mansions on the other side. Decorative dock entrances on the intercostal side had tall wrought iron gates, and access points along the Lake Trail were few and far between. Plus the path wasn't wide enough to fit a truck or tanker so crews used a 375-gal. squeegee machine.
The Paving Lady had three weeks to apply 15,000 gallons of Star Seal sealer in 13 different locations throughout the 16 miles and it all had to be done in phases – none of which were very large. Work was completed in 15 working days (disrupted buy four days of rain). 
"Each of the 13 locations had to have its own phases so we might start in one location and do part of that but then move that crew to another location two miles away and do part of that," Potter says. "The entire job was phased and scheduled this way. There wasn't one part of it that we could complete at one time."
Complicating matters is the fact that Palm Beach Island has no staging areas so The Paving Lady not only had to bring everything across the bridge each day but had to be mobile while working on the island. "We couldn't just park our tankers because the homeowners don't want to look out their mansion windows and see a squeegee machine sitting there or a sealcoat tanker. We had to be unobtrusive," Potter says.
She says her crews timed sealer delivery well and got an early morning jump when there's fewer bridge opening for boats and less traffic crossing the bridges so crews and equipment can get started while abiding the noise ordinance.
The Paving Lady's yard is 8 miles from the island and each morning, because they couldn't leave anything on the island overnight, they brought in two trucks: One was a tanker with sealer and the other hauled the 375-gal. squeegee machine and three crews. One crew worked ahead cleaning while a second and third crew sealed. She also left a driver with the truck so he can move the truck around as needed.
Sealcoating Lake Trail
The focal point and most sensitive part of the job was the self-contained Lake Trail. Potter says it was difficult to plan how much progress could be made each day because pavement quality varied so it was difficult to determine how much material the pavement would absorb and how much of the path they could sealcoat with one load of sealer.
The squeegee machine entered the trail at one end and proceeded to sealcoat. The squeegee machine operator and tanker drive kept in touch though radio or cell phone and as the squeegee machine reached an access point the operator alerted the truck driver, who drove the tanker to the access point. The squeegee operator finished sealing as much as he could, then drove to the access point where the unit was filled from the tanker. The operator then backed the squeegee machine up the Lake Trail to pick up sealcoating where he left off.
When the tanker was empty it left the island and headed 8 miles back to the yard to pick up a full tank, then headed back across the bridge to the next access point by the time the squeegee operator needed to refill. Occasionally The Paving Lady ran two crews on the island and used the same schedule and operation for each crew.
Some areas that were sealcoated were shaded by landscaping so Potter had the crew wait in the area to make sure no one went on freshly sealed pavement until it was dry.
"It was a time-consuming, not slam bang job," Potter says. "When working in front of these multi-million dollar estates there's no room for error in what you do. It has to be perfect.
Preparing the Customers
Potter says that especially in high-end communities the customers are an important part of the work, so she makes a special effort to connect with them.
To start with, Potter conducts a pre-construction meeting not just with the owners or managers of a project but with the homeowners as well, inviting them to a Q&A session in their clubhouse. "The biggest complaint we get on a project is that homeowners feel they are left in the dark," she says. "If I let them ask questions in advance that prevents a lot of problems and makes them feel more a part of the process."
She does the same when working for municipalities and office or commercial properties.
"When I let people know what's going to happen and give them an opportunity to express their concerns in advance we can make these jobs go much more smoothly and more quickly and that benefits everyone – and I tell them that," she says. "I explain that the reason I want them to ask their questions now is that they want me out of their hair as soon as possible – or maybe we're playing beat the rain --but when they come out and stop our crew to ask questions they are slowing things down and that means we're going to be there longer. That delays our job so I let them ask me first and in most cases that gets them to leave the crew alone once the job starts."
The result, she says, is far fewer complaints, less disruption of her crews, and customers who are much happier about the job.
If needed The Paving Lady also provides a courtesy golf cart the property can use to shuttle people around the work being done. "We make sure they have a place for it and that they understand what it's for and that it's not for joyriding -- and they have to sign a liability waiver. But it makes them more comfortable about the disruption on their property."
She says that while the cart certainly benefits the residents, it also enables The Paving Lady to work on larger areas of a project at a time.
"Instead of phasing the job in smaller pieces so it's easier for people to get back and forth I can do larger chunks. Take a project with 10-15 areas and if I can cut that in half it makes the job easier and more profitable for me because we can be more productive, and it also gets the job done quicker so we can be out of their way ahead of schedule and they like that."
In addition The Paving Lady will connect with individual property owners should the job warrant it – as the Lake Trail job did. "The path crossed all these elaborate gated entries and I sent a letter to every single estate owner along the path telling them 'this is where we're going to be, this is the type of equipment that will be out there, this is when we expect to cross their property so they know. It is something we do that makes them feel more comfortable," she says. She says The Paving Lady also coordinated with individual private security and the Palm Beach Island police.
LONG-TERM PLANNING
Potter says that a guiding principal of The Paving Lady is to develop repeat business, exemplified in her approach to quality work, customer service and even the long-term budget plans she develops for customers.
"When I'm finished with paving I don't just walk away," she says. "Long-term planning is important because it brings a lot of business back to The Paving Lady."
She says that at initial meetings with prospects she highlights the service and 50% of clients eventually opt to have her develop a long-term pavement management plan. Plans extend as far out as 25-years and because she's closely tracked DOT price movement and her costs over 30 years she feels she can comfortably project realistic budget figures for clients.
"There are properties I've babysat for five or six years and jobs I've bid several times before getting the work. But even if I only get 25% this year, if I stay with them long term we eventually get all the work because we built up that trust with them. We were there working for them and working with them when maybe they weren't doing any work or maybe just a little. We made an investment in them and they appreciate that. It creates a strong connection."
Potter emphasizes that her long-term plan is all free. "It's a courtesy to the client."
She says that the long-term planning and effort to generate repeat business is integral to The Paving Lady's approach to the paving & pavement maintenance business. "Instead of just making the sale it's quality of the job and attention to detail that we focus on. During the downturn in the economy it was my repeat clients that kept us going. They might have done smaller projects but they kept my doors open," she says, adding that wasn't the case for many of her competitors.
"In the downturn we saw a lot of people who lost their integrity because they were starving, and quality of work went down," she says. "But we weren't in that situation. We didn't overextend ourselves – we buy something and pay for it before we buy the next thing – and I saw a lot of guys overextended who couldn't pay for what they had and they started to do things they shouldn't have been doing and bidding at prices they shouldn't have been bidding. And while I understand it I think integrity is more important."