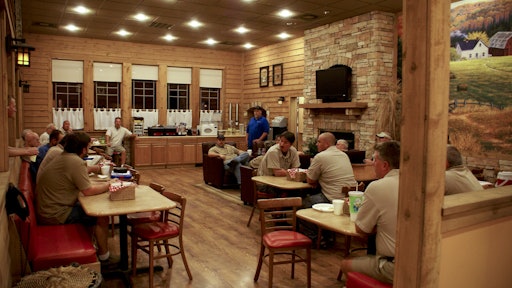 Celebrating its 30th anniversary this year, Hearthstone Property Services, Murfreesboro, TN, is a broad property services firm focusing on property manager clients. Led by President and Founder Scott Graby, Hearthstone pursues an approach to business that emphasizes an informal kaizen or "continuous improvement" approach. And while that continuous improvement cuts across virtually all aspects of the company, Hearthstone relies on technology and its family of employees to provide quality sweeping and other services to its more than 300 customers.
Started in 1985 as an office cleaning company, Hearthstone added parking lot sweeping, landscaping and a variety of maintenance-related work (infrared repair, striping, sealcoating, pressure washing) so they could become a full-service contractor to property managers. Today Hearthstone generates 40% of sales from sweeping (10 trucks running 8 routes), 40% from landscaping and 20% from other basic maintenance work.
Graby says that to be a successful service provider means you have to have employees willing to do the work needed to keep the customer happy. So Hearthstone focuses a lot of its efforts on not only finding and hiring the right people, but on making it easier for them to enjoy doing their jobs once they're a part of the Hearthstone family.
"Turnover kills you," Graby says. "You've got to hang onto those good people when you find them."
So Hearthstone makes a concerted effort to screen its hires right from the start, relying on Craigslist where they can post detailed descriptions of each job. The idea is that people who read the detailed description will screen themselves out before even contacting Hearthstone. Next is an online application and personality assessment, and through this point Hearthstone has spent zero dollars and virtually no time finding a new employee.
Initial applications are screened for obvious concerns, then the personality assessment is evaluated and results are compared to a baseline of Hearthstone's best operators. Roughly 20% of applicants make it past this stage. An interview is scheduled after references are called, then the prospect rides with a supervisor for several hours to get a sense of what the job is like. Applicants that aren't scared off by this point are generally pretty good prospects.
Graby says that once operators are hired, it's Hearthstone's job to try to keep them. "We really try to work with them so they want to be here," Graby says. "Sweepers are a special breed so we try to make it easy for them to continue working with us."
And making it easy takes a variety of different forms.
On the dollars-and-cents side, Hearthstone contributes $200 per month to an employee's health insurance, increasing that by $25 a year each year. "Once you've been here four or five years we end up picking up all the health coverage," Graby says. Employees can add family to their coverage but must assume that cost themselves.
In addition, employees receive three hours of vacation for every 40-hours they work. So employees who work 50 weeks will build up 150 hours of vacation, making it easier for them to take time off for any reason.
Graby says that doesn't cause a problem getting the work done because of the system Hearthstone uses for its operators. He says the company has tried five-night shifts and four-night shifts (where two operators would ride together one night to detail the parking lots). They have since switched to alternating four-night and three-night shifts that allow two operators to "own" a route, and gives them the ability to swap nights between themselves. "This way both drivers know the route and the properties and they have the flexibility if they need it," Graby says.
Once concern some sweeping companies have is how routes will get covered when drivers take time off, but Graby says that's not a problem at Hearthstone, either. He says employees who need time off put their name on a "Need Off" column on a chart and other operators can see what extra work is available and can pick up extra days if they want it.
"It's been a long time since we've had to twist anyone's arm to work," he says. "This has turned out to be a godsend."
Graby says Hearthstone also provides breakfast every day, which has become much more important than he ever thought it would. "The light breakfast was a hit so we tried to make it a competitive advantage," Graby says. "I don't know if we've ever gotten an employee because of it but people do ask about it."
In the offseason the breakfast is continental but the rest of the year Hearthstone brings in a cook who prepares a complete spread. Breakfast is served in a comfortable break room (complete with big screen TV where operators often congregate before heading to their routes at night). He says breakfast is timed to run from 6:00-7:30 a.m. when the sweeper operators are ending their shifts and the landscape and maintenance crews are starting theirs.
"It used to be that the morning was the most stressful time of the day, with the sweepers coming in and the landscape and other crews heading out, but that's no longer the case," Graby says.
Other efforts include a Christmas party and at least one annual trip for employees and their families. "We like to give them something they can bring their kids and family to," Graby says. "It's a nice opportunity for them to meet the other workers' families too."
He says they also work to make sure operators go out with clean trucks (they shoot for 200,000 miles per truck) that provide as much comfort and are as easy to operate as is reasonable. "We try to keep their trucks from getting grungy so they enjoy their time in them more," Graby says. "A few years ago we took out the air conditioning because of fuel consumption, but that turned out to be something the operators really wanted." So Hearthstone put the AC back in and now asks operators to use it judiciously.
High-Tech Helps Hearthstone, Drivers & Customers
Another of Hearthstone's distinctions is its operations process that involves not only a reliance on technology but demonstrates a willingness to experiment with high-tech solutions. But as Graby explains, the reliance on technology is not an end in itself. "We use technology to streamline operations, provide higher-quality service for customers and a more enjoyable working environment for employees," Graby says. "We're an early adopter. If we see something that we think can streamline our process we'll give it a try."
The backbone of their technology is a system Hearthstone uses based on FileMaker, which the contractor bought 15 years ago and has continued to modify. "We're not exactly paperless but we're close," Graby says.
Graby, who describes himself as virtually a self-taught "gadget lover," programs it himself. "There's something about developing a system that runs like a machine that appeals to me," he says. "I tinker constantly. Most sweepers tinker but they tinker in their shop. I just tinker at my computer."
In addition to integrating Virtual Fleet Supervisor GPS system into their process, all Hearthstone drivers and supervisors have iPhones. Through their iPhones and the FileMaker Go app they can access all their route data including diagrams of sweeping areas, special notes, and even a map of the parking lot as they're sweeping it. They also clock in and out from each property, and the night supervisor (or owner) can see all routes being updated in real time.
"Everything can be accessed on their iPhone," Graby says. They can also take photos and notes and send those immediately to the supervisor, and if we have a problem we can call up the routes that night in real time, see where everyone's at, and send the closest operator to handle it."
Graby says with the three-day / four-day schedule, the operators themselves can decide which night of the week to "detail" each of their properties.  ("Detailing" is the weekly thorough blowing of all curb lines and backs of buildings.)  "When they click 'Detail' on their app, it calculates a 50% increase in the 'book rate' for that property, and also alerts the supervisor that this may be a property he wants to check to ensure it was indeed detailed," Graby says.
He says the system also makes it easy for operators to earn extra money (and extra work for the company) through system Hearthstone calls "Watchdog." Under Watchdog, which is paperless, operators receive $1 for each potential job they find and turn into their supervisor and $5 if what they find turns into a job. Jobs can be damaged signs, pavement repairs, graffiti etc. They use their phone to take a photo or send a note to the supervisor.
"Once they Watchdog something it goes immediately to our office, and we send it right from our office to the client – we just click send and the client can just reply Do It," Graby says. "That immediately gets turned into a work order in the office, and once the job's done the operator lets the office know and the office lets the client know it's done.
"It's a great source of new jobs, plus it lets the clients know we've got their back," Graby says.