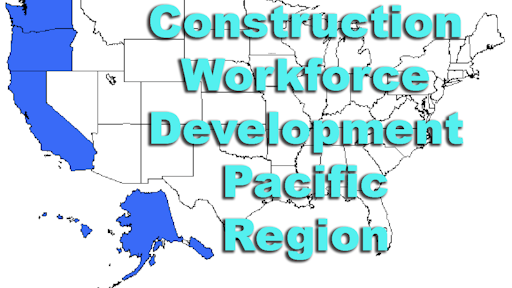 Associations, contractors, schools, unions, governments and everyone in between are making efforts in every state to develop the construction workforce and fill the shortage in the construction industry's labor pipeline.
Construction Craft Professional Demand through June 2018
Here is a sampling of programs, schools and initiatives in the Pacific region with the goal of developing the construction workforce.
Alaska
Alaska Construction Academies
Created in 2006, the Alaska Construction Academy targets high school students and adults to train and place them into high demand construction and trade apprenticeship programs.
The academies provide school-to-apprenticeship training programs for high school students and evening classes for adults to teach the necessary skills for construction jobs. Some of the academies even offer free training classes.
Alaska Construction Academies are located in Anchorage, Fairbanks, Juneau, the Kenai Peninsula, Mat-Su Borough and Ketchikan as well as a few regional academies.
California
San Diego AGC Apprenticeship Program
Run by contractors for contractors, the San Diego Associated General Contractors of America's non-union apprenticeship program is California's first and largest open-shop apprenticeship program. The program is designed for contractors who want to train on public works projects, federal Davis-Bacon and private construction projects throughout the state.
The program, which takes two to four years depending on the craft, provides both on-the-job training and classroom learning. In addition to being a full-time employee of a construction company, all apprenticeship students also attend classes two nights per week for a minimum 24 weeks per year. Apprentices who complete the program are awarded an AGC and state of California certificate recognizing the recipient as highly trained and meeting industry standards of occupational proficiency.
Contractors can also participate in the apprenticeship program by employing apprentices enrolled in the program.
Stanley Foster School of Engineering, Innovation and Design
Started in 2002 under the name Stanley Foster Construction Tech Academy, the school is a project-based learning environment that aims to "provide every student with the knowledge, skill and wisdom to become the next generation of mechanical engineers and architects."
Camp NAWIC San Diego
Camp NAWIC in San Diego is a five-day camp that aims to get high school-aged girls interested in the construction industry. Campers get hands-on experience in construction activities.
First year campers, also known as apprentices, get exposure to the basic trades. Returning campers, also known as journeymen, get to put their knowledge to the test on a construction project. All campers learn skills for team building and working together.
Returning campers who have been through at least two years of camp have the opportunity to apply to be the project superintendent. The project superintendent is trained on labor-load schedules and project staffing as well as accepts deliveries of materials, supervises workers for safety and logs all job details. In addition, the project superintendent receives a $500 stipend at the end of camp.
The camp has hosted more than 150 participants since its start in 2008.
Hawaii
Hawaii Construction Academy
The Hawaii Construction Academy is a partnership between the Hawaii Community College system and various high schools on Oahu, Kauai and Hawaii. The program is designed to prepare students for construction industry-related careers and provide them opportunities to explore and develop technical, academic and other necessary skills.
With a hands-on approach, students apply math, communication, technology and problem solving skills and have the opportunity to earn high school and college credits.
The academy provides high school students with a head start on a two-year post-secondary degree, the ability to enter a post-secondary apprenticeship program at a more qualified skill level or the opportunity to join the workforce after graduation with the skills and knowledge needed.
Oregon
Oregon ACE Academy
The Oregon Academy for Architecture, Construction and Engineering (ACE) is a public, tuition-free charter high school that opened in 2008. The school is a shared-time program for junior and senior high school students. ACE offers math, science, English and technical skills curriculum in the design-build industry through hands-on learning.
Portland's ACE Academy offers three pathways for students: construction, architecture and engineering. The construction program offers students the chance to gain construction experience through building mini-houses. Students in the construction program also have the ability to work with established apprenticeship programs and professionals in the construction industry.
At the core of the ACE Academy is the interaction with industry professionals, and local contractors have multiple ways they can get involved with the program. Contractors can sponsor one of the three programs, become a capstone project mentor or expert for students, provide summer employment or internships, be a guest speaker or offer worksite visits.
Washington
Construction Industry Training Council
The Construction Industry Training Council of Washington (CITC) is a construction industry vocational trade school with training programs available throughout the state. CITC offers 10 construction apprenticeship programs, 10 construction training programs and many continuing education courses.
CITC helps both employers looking to continue education for field employees and individuals looking to begin a career in construction or improve their current set of skills.
According to the CITC website, the program currently serves more than 450 apprenticeship and classroom training students; 2,500 continuing education students; and over 150 students who take part in skill assessments and performance verifications.
Ready Set Build
Developed for fifth through eighth grade students, the Ready Set Build program provides a three-hour, hands-on construction learning experience. Participating students apply math, analytical thinking, teamwork and communication skills to build a life-sized prefabricated small project.
Students work in teams to make sure all tasks including framing, wiring and plumbing are completed correctly.
West Coast Training
West Coast Training in Washington offers training for heavy equipment operators, crane operators and truck drivers. Graduates of the programs are qualified to work in residential and commercial construction, road and bridge construction, mining and quarry operations, and manufacture and shipping operations.
The eight-week heavy equipment training program teaches participants how to operate excavators, dozers, backhoes, loaders, scrapers, graders and compactors.
Students in the four-week crane operator training program learn how to operate hydraulic swing and fixed cab cranes, lattice truck and crawler mounted cranes. The program also includes OSHA qualification in rigging and signaling.
The four-week commercial driver training program prepares participants for over-the-road and local trucking jobs and how to transport heavy equipment and cranes to and from a jobsite.
Nationwide Initiatives Work to Recruit Construction Laborers
Education is Key to Recruit, Develop the New Construction Workforce
Hands-on Training Opportunities Create Interest in Construction Jobs
Apprenticeships are Still a Viable Source of Construction Workforce Development
What is Your State Doing to Develop the Construction Workforce?