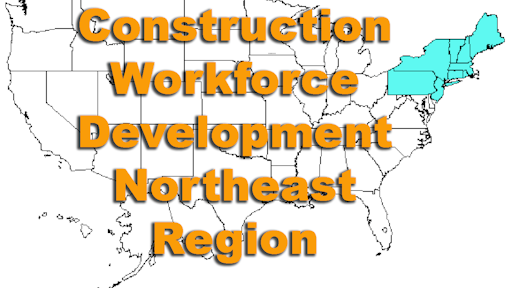 Associations, contractors, schools, unions, governments and everyone in between are making efforts in every state to develop the construction workforce and fill the shortage in the construction industry's labor pipeline.
Construction Craft Professional Demand through June 2018
Here is a sampling of programs, schools and initiatives in the Northeast region with the goal of developing the construction workforce.
Connecticut
Capital Workforce Partners Jobs Funnel
Jobs Funnel is a "pre-employment preparation and job training stepping stone for Connecticut residents who are seeking employment in construction and construction-related trades."
Adults 18 years and older have the opportunity to train in a variety of programs including cement masonry, carpentry, OSHA 10, general construction for women, weatherization and gas utility worker training. 
Delaware
Delaware WONDER
The Delaware Work Opportunity Networks to Develop Employment Readiness (WONDER) will help provide job training to Delaware residents who receive food benefits. Thanks to an $18.8 million grant from the U.S. Department of Agriculture, Delaware WONDER will be one of 10 pilot programs.
Participants in the employment and training program will be assigned to one of four career tracks based on aptitude and interest: construction trade, culinary arts, manufacturing and broad-based job placement.
Through the construction trade track, participants will participate in a pre-apprenticeship program with the Eastside Rising project. The Eastside project is responsible for 140 to 150 homes in East Wilmington which will be rehabbed to help revitalize the neighborhood and increase employment and training for disadvantaged adults in the state's highest poverty areas.
The Eastside Rising project has committed to helping participants in the WONDER program and estimates it can support up to 400 pre-apprenticeships during three years – approximately 11 pre-apprenticeships per month. Eastside Rising also expects to maintain participants in paid pre-apprenticeships and transition them from one rehab project to another until permanent paid employment is found.
The Department of Health and Social Services (DHSS), which is in charge of the Delaware WONDER program, expects to serve 1,700 individuals each year.
Maine
Women Unlimited
Originally a welfare-to-work program for single mothers, Women Unlimited has expanded to provide women, minorities and disadvantaged workers in Maine with access and support in trade, technical and transportation careers.
Women Unlimited offers nationally certified construction-related trainings throughout the state. Available courses include:
Blueprint reading
Construction math
Estimating
Welding
Carpentry
The program also offers a two-week, NCCER-certified Construction Boot Camp training in road and bridge construction and a six-week, NCCER-certified Construction Craft Laborer course that expands upon what's taught at the boot camp. The Laborer course also trains on site layout, using building materials and many aspects of concrete construction.
Participants can also enroll in the half-day Heavy Equipment Day workshop where they have the opportunity to operate skid steers, front-end loaders, graders, excavators, backhoes and dump trucks.
The program also maintains a job bank with construction employment opportunities.
Totally Trades Conferences
Women, Work & Community holds multiple Totally Trades Conferences throughout the year all over the state of Maine. The conferences are designed to introduce eighth grade and high school girls to careers and trades in technology and hopefully spark an interest in a construction career.
Over 500 girls attend the events each year and are exposed to careers in highway construction, bridge building, building construction, woodworking, alternative energy, electrical, cable technician, and plumbing and heating.
Massachusetts
Gould Construction Institute
In Massachusetts, the Gould Construction Institute (GCI) — a training affiliate of Associated Builders and Contractors — prepares individuals for employment and long-term opportunities in the construction industry. The goal is to educate the current construction workforce and develop the next generation of craft workers.
GCI provides training in general construction, safety, professional development, project management, sustainability and even trade-specific apprenticeship programs. GCI has six locations throughout Massachusetts.
Through the career development program track, GCI offers courses for crew leader skills, field engineering and plan reading.
GCI's safety courses cover a wide-array of safety topics including fall protection, first aid, hazard communication, material handling, OSHA for Construction programs, personal protective equipment, scaffold awareness and more.
Through a partnership with Wentworth Institute of Technology, GCI provides a Certificate Program in Construction Project Management, which consists of five courses covering project management, project planning, project team management, project risk management and a project management capstone. A student who successfully completes the program receives a certificate that he or she can submit for up to eight credits towards on Associate's Degree in Construction Management at Wentworth.
In addition to the onsite training programs, GCI offers correspondence programs that allow students to participate in construction-related courses at their own pace from their own home. These 150-hour courses include topics such as carpentry, concrete finishing, construction craft laborer, heavy equipment, masonry, roofing and more.
Building Pathways Building Trades Pre-Apprenticeship Program
This free pre-apprenticeship program offered by the Metropolitan Boston Building and Construction Trades Council prepares young adults, minorities, women and low-income workers to enter a building trades apprenticeship program.
This seven-week pre-apprenticeship program incorporates classroom instruction, site visits and shop classes.
New Hampshire
Heavy Construction Academy
In New Hampshire, the Heavy Construction Academy is training individuals how to operate machinery including front-end loaders, backhoe loaders, skid steers, dozers, off-road dump trucks, roller compactors, motor graders and excavators. The program offers career training and certification so graduates leave with the ability to be successful in the construction industry.
The Heavy Construction Academy training programs are open to recent high school graduates, industry veterans and almost everyone in between from all across the country.
Heavy Construction Academy prides itself on teaching its programs through a "Hear It, See It, Do It" method, which incorporates field demonstrations, instruction and hands-on training. Unique to Heavy Construction Academy is its use of two-way radios in all its equipment. This allows instructors to communicate with operators while operating, and operators don't have to stop or leave the equipment if they have a question.
The academy features two program levels for its heavy equipment training. The Level 1 Program is three weeks of intensive classroom and field training. Classroom topics covered include:
Intro to the trade
Basic operation techniques
Preventative maintenance
OSHA safety principles
Civil blueprint reading
Earthmoving (level 1)
Grades (level 1)
Participants of the Level 1 Program also receive hands-on field training on front-end loaders, backhoes, articulated dump trucks and skid steers.
The Level 2 Program expands on the Level 1 training. Level 2 is a six-week class where participants learn:
Advanced operational techniques
Excavation calculations
Site layout
Earthmoving (level 2)
Grades (level 2)
Intro to Project Management
The Level 2 program allows participants to train on excavators, bulldozers, telehandlers, rollers and motor graders. According to Heavy Construction Academy, students spend around 70% of their time operating equipment, which in the Level 2 program means at least 160 hours of operating time.
Heavy Construction Academy is licensed by the Department of Education, and all graduates receive a diploma as well as a national certification ID card.
In addition to the equipment operator training, Heavy Construction Academy students also receive training in career skills, resume writing and job search counseling.
New Jersey
Construction Craft Laborer Apprenticeship Program
The New Jersey Construction Craft Laborers' Apprenticeship Program is the state's only federally approved apprenticeship program that trains men and women for construction careers as a union laborer.
The program combines 400 hours of classroom and 4,000 hours of hands-on training. Training is provided free of charge to qualified candidates. Apprentices are paid according to a schedule based on training and experience. Pay raises are giving after approximately every 1,000 hours of work and training.
New York
Youth Construction Initiative
Designed for high school juniors and seniors, New York State's Youth Construction Initiative Program (YCIP) provides on-the-job training and a chance for students to explore careers in the highway construction industry.
The two-year program consists of classroom learning, job skills and summer on-the-job training. Students enrolled in the program receive pre-apprenticeship training in the heavy highway construction trades and leave the program prepared to enter an apprenticeship position or directly into the construction and engineering industry workforce.
The YCIP program currently works with eight local high schools across the state.
Edward J. Malloy Initiative
Started in 2001, The Edward J. Malloy Initiative for Construction Skills, Inc. has been dedicated to preparing and training a skilled workforce from New York City's five boroughs for careers in the unionized construction industry. According to the program's website, it has helped place over 1,600 New York City residents into union apprenticeship programs between its inception and March 2015.
The program offers both pre-apprenticeship and apprenticeship training, and the program's pre-apprenticeship training is recognized as one of three direct-entry programs to New York City's building and construction trades.
The pre-apprenticeship program is designed for graduating high school seniors as a road to prepare them for entry into unionized building and construction trades apprenticeship programs through both classroom and hands-on learning. Upon completion of the pre-apprenticeship program, students are referred to union apprenticeship programs through "direct entry," meaning they can bypass the public recruitment process.
For students enrolled in the pre-apprenticeship program, they start with an Introduction to the Building and Construction Trades course while still in high school. After graduating, the students then begin a four-week "intensive hands-on training designed to simulate construction site experiences" before they can then be referred to union apprenticeship programs.
The Edward J. Malloy Initiative has nearly 20 local high schools participating in its pre-apprenticeship program.
The apprenticeship program provides the opportunity for apprentices to attend classes paid for by unions and contractors while also being employed on projects in their craft trade. The program is part of the registered apprenticeship program, so all participating apprentices receive at least 144 hours of annual classroom instruction as well as on-the-job training all while being able to earn a wage and increase their skills.
The apprenticeship program training typically lasts three to five years, and apprentices who successfully complete the program then graduate to journey workers.
The Edward J. Malloy program currently has 21 apprenticeship programs spanning carpentry, electrical, plumbing, steamfitting, concrete work, iron work, masonry, operating engineers, sheet metal, bricklaying, painting, roofing and more.
Pennsylvania
New Castle School of Trades
The New Castle School of Trades Construction Trades Program teaches students the skills they need for entry-level positions in the residential construction and remodeling industries.
The Construction Trades Program incorporates classroom and hands-on training with industry equipment and construction techniques. The New Castle program places particular emphasis on the fields of carpentry, millwork, masonry, interior and exterior finishes, and roofing.
New Castle also offers programs in building technology, heavy equipment operation, and diesel and heavy equipment repair.  
The school also offers a job placement assistance program that teaches students skills including resume writing and interviewing skills.
Rhode Island
Rhode Island Construction Training Academy
The Rhode Island Construction Training Academy has been training apprentices since 1992. The program, which is open to any adult with a high school diploma or GED, is state approved and uses NCCER developed curriculum approved by the national and state Department of Labor. It is the same curriculum used in the state's vocational and technical high schools.
The Rhode Island academy offers nine construction industry career paths. Classes are held during evening and night hours to allow students to work and gain experience during the day. Students who complete the program are also eligible to transfer credits towards an Associates Degree at the Community College of Rhode Island.
The academy's Apprenticeship Training Program trains students in carpentry, craft laborer, electrical, HVAC, masonry, painting, pipefitting, plumbing, roofing, sheet metal and sprinkler fitting.
Vermont
Vermont Works for Women
Vermont Works for Women was originally started in 1987 as a nonprofit organization helping women get training in nontraditional fields. The organization features Step Up programs and classes that introduce women to jobs and careers in typically male-dominated fields, such as construction and skilled manufacturing.
Step Up programs range from one-day orientations to nine-week training programs. The programs are designed to help women "try on" a career and help increase her likelihood of successfully obtaining further training and/or a job in that field.
The Step Up to Construction program is a 40-hour training program focused on residential and commercial construction. It is designed to provide an overview of the knowledge and skills needed for a career in the building trades.
Women participating in the Step Up to Construction program will be introduced to:
Applied construction math
Blueprint reading
Hand and power tools
Materials identification
Wall framing and layout
Concrete form work
OSHA 10 basic safety certification
Participants also have opportunities to job shadow at a local construction site, meet local professionals and employers, and improve their communication and teamwork skills.
Rosie's Girls
Rosie's Girls is a Vermont Works for Women initiative. The three-week summer day camp for girls in sixth through eighth grades provides the opportunity to explore the skilled trades through hands-on instruction in STEM-related (science, technology, engineering and math) activities as well as carpentry, welding and auto repair.
Rosie's Girls started in 2000 and has extended to Ohio, California, New York and Rhode Island. Rosie's Girls camps have served over 2,500 girls nationwide since the first camp.
Nationwide Initiatives Work to Recruit Construction Laborers
Education is Key to Recruit, Develop the New Construction Workforce
Hands-on Training Opportunities Create Interest in Construction Jobs
Apprenticeships are Still a Viable Source of Construction Workforce Development
What is Your State Doing to Develop the Construction Workforce?